American Owned and Operated - 100% American Based Customer Service - Custom Laser Engraving - No Accounts Required
Medieval Swords for Sale
Medieval Swords for sale are available in many different styles. Popular items in this category include battle ready, functional or display and collectible designs. Most have historical details or are inspired by real swords. Buy all types of medieval swords now on sale.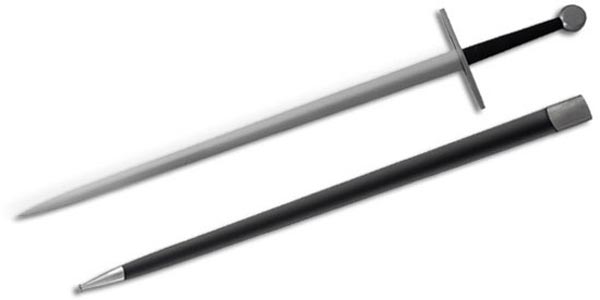 Medieval Swords:
Bastard Sword
5160 Marquenched Spring Steel
Custom Scabbard
$259.99


Bastard Swords for sale are 42 ¾ inches in all and weigh 2 lb 10 ounces. These Bastard Swords are inspired by the medieval Oakeshott Type XVIII which were real 16th century swords that had a broad flat blade and a narrow fuller. This modern version features a functional and sharp 33 3/8th inch 5160 marquenched spring steel blade. The 9 3/8th inch handle is covered in real leather and can accommodate a one hand or two handed grip. These swords feature a traditional wheel shaped pommel and can be disassembled for customization and maintenance. The genuine leather wrapped scabbard has steel fittings. These popular swords meet Tinker reenactment specifications. Buy these Bastard Swords for $259.99.