American Owned and Operated - 100% American Based Customer Service - Custom Laser Engraving - No Accounts Required
Medieval Swords for Sale
Medieval Swords for sale are available in many different styles. These popular pieces are inspired by real swords, legendary figures or famous historical people. Buy all types of functional, battle ready and display medieval swords on sale now.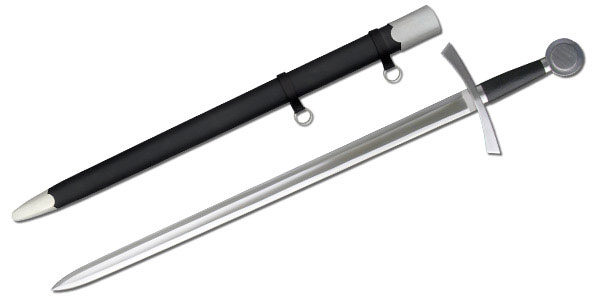 Medieval Swords:
Lionheart Swords
Functional Sharpened Blade
$219.99


Lionheart Swords for sale are reproductions of real medieval swords used in the 12th and 13th centuries by knights in battle. Swords from this popular collection are both authentic in appearance and functional in construction. These handmade medieval swords for sale measure 33 ½ inches in all. They have a functional 27 inch, sharpened, high carbon spring steel blade. Similar to the swords used by medieval knights, these handmade swords feature a cruciform-hilt style and a slightly down-turned curved bow-tie style guard. However, the forged, sharpened high-carbon spring steel provides a modern and functional blade. The wheel pommel has been peened. The 6 ½ inch, single hand handle of these Lionheart Swords is made of Makassar ebony wood that is covered in black leather. These popular swords include a matching black leather scabbard and weigh approximately 2 lbs, 8 ounces. Buy these authentic Lionheart swords for a battle ready and functional collectible with a rich medieval history for $219.99.