American Owned and Operated - 100% American Based Customer Service - Custom Sword Engraving - No Accounts Required
Official Marto Swords and Shields
Marto Swords and shields for sale are made by the world famous artisans of Toledo, Spain. Since the Roman age, Toledo has produced exceptional swords. Marto strives to follow this tradition. Buy all types of official Marto Swords and Shields on sale now.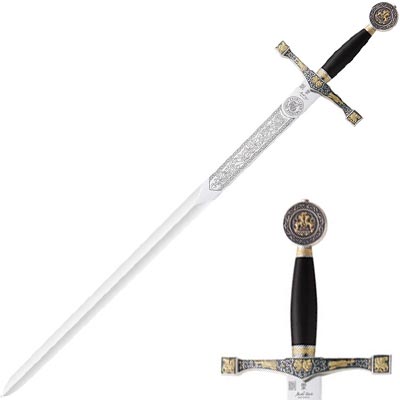 Marto Swords:
Excalibur Swords
Tempered Stainless Steel
Made in Spain
$379.99



Marto Excalibur Swords for sale are 48 inches in all. These popular swords are made in Toledo, Spain to honor Excalibur the legendary sword of the famous King Arthur. The mirror polished 36 ½ inch tempered blade is display ready featuring an unsharpened factory edge. The 420-J2 stainless steel blade features elaborate black medieval designs. Adorning the handle and guard are ornate engravings of medieval dragons, gold colored heraldic lions and Celtic patterns. The wheel pommel, guard and the fittings are all crafted of antique silver-plated cast metal. The handle is made of cast metal covered in real black leather. Buy these Marto Excalibur Swords for $379.99.
---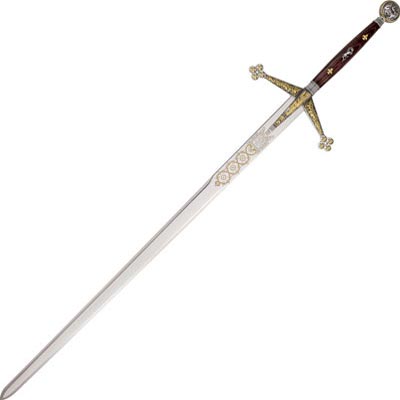 Marto Swords:
Claymore Swords
Tempered Stainless Steel
Made in Spain
$599.99



Marto Claymore Swords for sale are a massive 57 inches. This official Marto sword is inspired by real medieval Scottish swords and claymores. The beautifully mirror polished 37 ½ blade is crafted of tempered false edged stainless steel and features 24kt gold etching. The wooden handle features decorative silver and gold colored medieval embellishments including a unicorn and fleur-de-lis. The sculpted cast metal guard, pommel and the fittings all have an antique silver-plated finish. The rounded pommel depicts a lion attacking a unicorn. They have 24kt gold embellishments of medieval scrolls, lions and fleur-de-lis. Buy the official Marto Claymore Swords made in Toledo, Spain for $599.99.


Excalibur Swords
$379.99
Official Marto Swords

Claymore Swords
$599.99
Official Marto Swords
Sword Engraving Services
Personalize Swords and Knives:
- As Low As $25 Per Piece
- Individualize Each Piece
- Engrave Logos and Text
- Engrave Names and Phrases
- Engrave Your Logo
- Choose From Assorted Fonts
Click Here To Customize
Military Swords
Award Ceremonies
Executive Gifts
Private Organizations
Holidays & Birthdays
Weddings & Celebrations