American Owned and Operated - 100% American Based Customer Service - Custom Sword Engraving - No Accounts Required
Expendables Knives
Expendables Movie Knives for sale are from the popular film series starring Sylvester Stallone. The bowies and knives featured are officially licensed replicas from both The Expendables and The Expendables 2 movies. They are built exactly like the ones that were designed by Gil Hibben and featured in the films. Buy the entire collection of Expendables movie knives and bowies.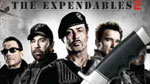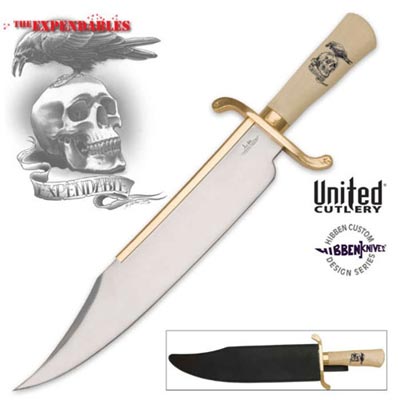 Expendables Movie Knives:
The Expendables Bowie Knife
Includes Custom Leather Sheath
$139.99



The Expendables Knife for sale is an exact replica of the bowie used in the movie. These massive knives measure 20 ½ inches in all. They have a 14 inch, sharpened blade that is made of highly polished stainless steel. These knives feature a faux ivory handle that is accented by a gold plated blade catcher and guard. Artwork from the Expendables movie is featured on the handle. These officially licensed movie knives have a gold plated guard that has a star imprinted on both ends. This enormous bowie knife includes a custom black leather sheath with the Hibben Knives logo. The Expendables movie knives are manufactured by United Cutlery. The design is based upon the actual prop created by master knife maker Gil Hibben. Buy the Official Expendables Movie Bowie Knife for $139.99.
---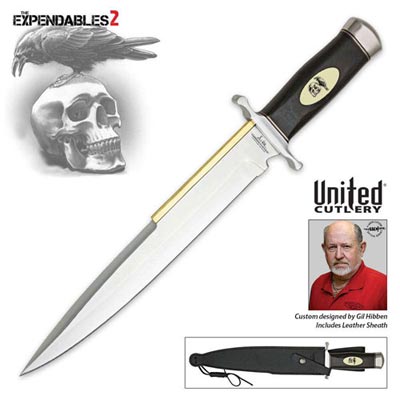 Expendables Movie Knives:
The Expendables 2 Knife
Includes Custom Leather Sheath
$129.99



Expendables 2 Movie Knives are 17 ½ inches in all and feature a mirror polished blade. The sharpened Toothpick style 3Cr13 stainless steel blade measures 11 7/8th inches. The blade features the signature of Gil Hibben and Hibben Knives etched onto it. They also include a custom leather sheath. The hardwood handle features a synthetic ivory inlay with the famous skull and bird design from the popular movie. Buy the Officially Licensed Expendables 2 Movie Knife for $129.99.
---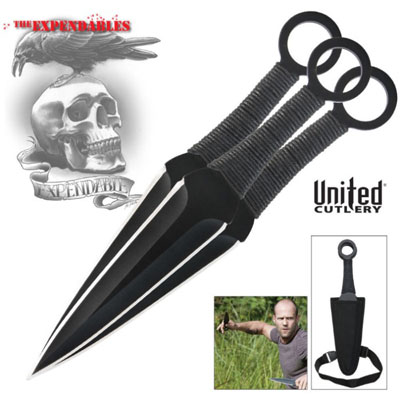 Expendables Movie Knives:
Expendables Thrower Set
Includes Custom Sheath
$99.99



Expendables Kunai 3 Piece Thrower Set by United Cutlery. This throwing knife set features three perfectly balanced throwing knives constructed of single pieces of anodized AUS-6 stainless steel. Each thrower measures 12 inches long and features an anodized double-edged, stainless steel blade with a black cord-wrapped handle with a finger hole. Knife includes a custom nylon sheath with boot clip and leg strap for multiple carrying options for just $99.99. This item cannot be shipped to NY.

Popular Licensed Movie Replicas