American Owned and Operated - 100% American Based Customer Service - Custom Sword Engraving - No Accounts Required
Champagne Sabres in Assorted Styles
Champagne Sabers for sale. Buy Champagne and Sommelier Sabers in assorted styles. From standard sabers to high end professional models. Some include gift boxes or display stands. Add custom engraving to complete your piece or to make a one of a kind gift. Champagne Sabers start at only $84.99.



Champagne Sabers:
Personalized Champagne Saber
Includes Leather Sheath
Includes Engraving
Up to 60 Characters
$84.99



Personalized Champagne Sabers are 25 inches overall. These sabers have an unsharpened stainless steel 19 inch blade. The grip is made of a black composition material with a gold wire wrap. The guard is manufactured of a silver colored metal. These sabers include a black faux leather sheath which features snaps to enclose the saber when not in use. Buy these Champagne Sabers with a custom engraving for only $84.99.

Engraving Services are included with this saber. Engrave up to 60 characters per saber. These can be individualized with names, phrases, special dates etc. This service is ideal for ceremonies, personalizing gifts and awards. The engraving will be placed above the guard on the right side of the saber towards the center and will read from left to right or from the hand guard to the blade point. Text can be stacked.
After purchased, send an email with your engraving details or just fill out the form here.
---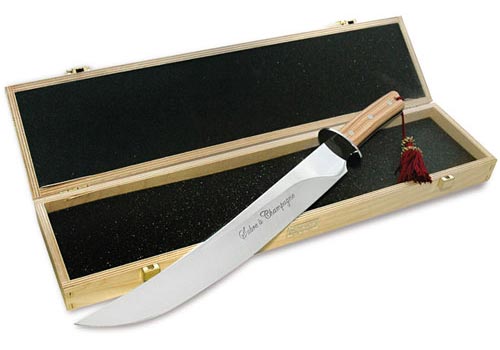 Champagne Sabers:
Champagne Saber
Wooden Storage Box
$179.99


Champagne Sabers for sale are 18 ½ inches in all. These handsome Champagne Sabers are designed to open a bottle of champagne or sparkling wine and feature a mirror polished stainless steel blade. These full tang sabers have an unsharpened 13 ½ inch blade and a brown wooden handle. The blade is engraved with Sabre a Champagne beautifully written in script. The wooden handle is crafted of luxury timber Bubinga wood. They have a shiny mirror polished stainless steel guard and a maroon tassel. These short swords include a wooden storage box. They are made in Italy. Buy the handsome Champagne Saber for $179.99.
---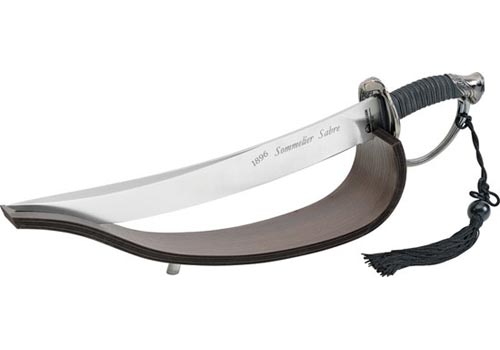 Champagne Sabers:
Sommelier Saber
Wooden Display Stand
Made By Due Cigni
$229.99

Due Cigni Sommelier Sabre is crafted by Due Cigni in Maniago, Italy. These champagne sabers are 21 ¼ inches overall and feature a polished 15 ¾ inch T5MOV stainless steel blade. The black leather handle features a traditional wire wrap. The blade is engraved with the year 1896 and "Sommelier Sabre". A dark tassel completes this quintessential champagne saber. They also include a free wooden display stand. Buy the 1896 Sommelier Sabre for $229.99.
---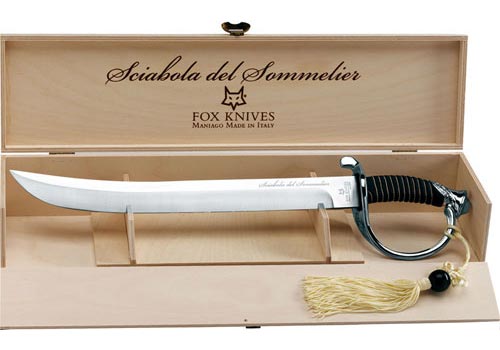 Champagne Sabers:
Sommelier Saber
Wooden Storage Box
$249.99

Sommelier Sabers are 21 inches in all. These gorgeous Italian Sommelier Sabers are made to pop a bottle of champagne or wine. They are crafted in northeastern Italy in the town of Maniago, Italy, a town famous for producing steel blades. They feature a 15 ½ inch brushed finish T5MoV stainless blade that is engraved with "Sciabola del Sommelier" and the Fox Knives logo. The handle is wire wrapped and creates a beautiful contrast against the shiny, polished guard and pommel. A decorative beaded tassel is tied to the handle. These champagne sabers also include a wooden champagne presentation crate. Buy the distinctive and beautifully crafted Italian Sommelier Sabers for $249.99.