American Owned and Operated - 100% American Based Customer Service - Custom Laser Engraving - No Accounts Required
Swords and Popular Collectibles
Swords Direct offers hundreds of swords for sale. Shop over thirty categories of swords. Movie swords, display and practice swords in addition to functional Samurai Swords, Practical Katana Swords, Broadswords, Scimitar Swords, Pirate Swords and Medieval Swords. We accept all major credit cards and PayPal.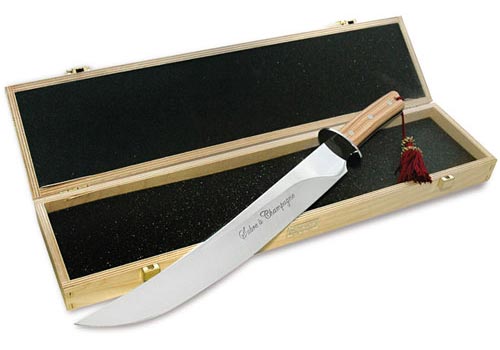 Specialty Swords:
Champagne Saber
Wooden Storage Box
$119.99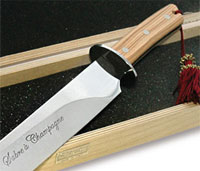 Champagne Sabers for sale are 18 ½ inches in all. These handsome Champagne Sabers are designed to open a bottle of champagne or sparkling wine and feature a mirror polished stainless steel blade. These full tang sabers have an unsharpened 13 ½ inch blade and a brown wooden handle. The blade is engraved with Sabre a Champagne beautifully written in script. The wooden handle is crafted of luxury timber Bubinga wood. They have a shiny mirror polished stainless steel guard and a maroon tassel. These short swords include a wooden storage box. They are made in Italy. Buy the handsome Champagne Saber for $119.99.
---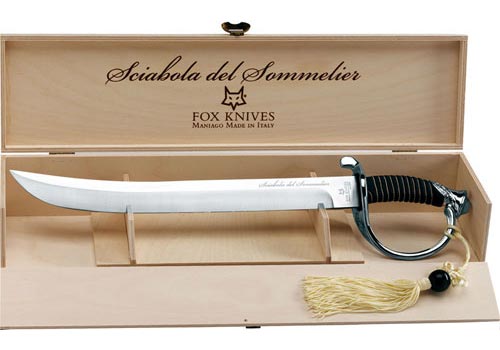 Specialty Swords:
Sommelier Saber
Wooden Storage Box
$174.99

Sommelier Sabers are 21 inches in all. These gorgeous Italian Sommelier Sabers are made to pop a bottle of champagne or wine. They are crafted in northeastern Italy in the town of Maniago, Italy, a town famous for producing steel blades. They feature a 15 ½ inch brushed finish T5MoV stainless blade that is engraved with "Sciabola del Sommelier" and the Fox Knives logo. The handle is wire wrapped and creates a beautiful contrast against the shiny, polished guard and pommel. A decorative beaded tassel is tied to the handle. These champagne sabers also include a free black lacquer wooden stand and a wooden champagne presentation crate. Buy the distinctive and beautifully crafted Italian Sommelier Sabers for $174.99.