American Owned and Operated - 100% American Based Customer Service - Custom Laser Engraving - No Accounts Required
Riddick Knives and Riddick Goggle Replicas
Get the classic Tom Anderson version of the Twin Saber Claws used by Vin Diesel from the hit movie, The Chronicles of Riddick. The foldable Nomad Goggles are a perfect match for this set.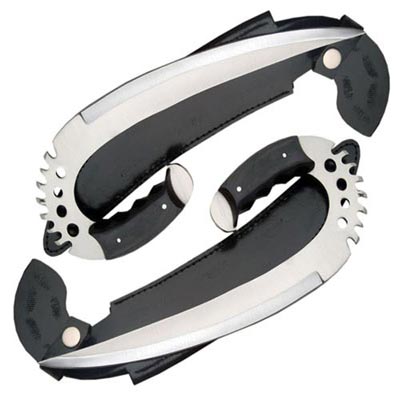 Chronicles of Riddick Replicas:
Riddick Saber Claws
Includes Tabletop Display
$39.99


Saber Claws for sale are designed like the knives featured in the popular Chronicles of Riddick movie. This set contains two 12 ½ inch, stainless steel knives. The sharpened blades have a black finish. These Riddick Saber Claws have an 11 inch wrap around the blades. The knives have saw-like teeth on the rear edge. They also include a black tabletop display stand. Buy these Saber Claws that have a similar design to the ones from the movie for only $39.99.


Popular Licensed Movie Replicas