American Owned and Operated - 100% American Based Customer Service - Custom Laser Engraving - No Accounts Required
Medieval Swords for Sale
Medieval Swords for sale are available in many different styles. These popular pieces are inspired by real swords, legendary figures or famous historical people. Buy all types of functional, battle ready and display medieval swords on sale now.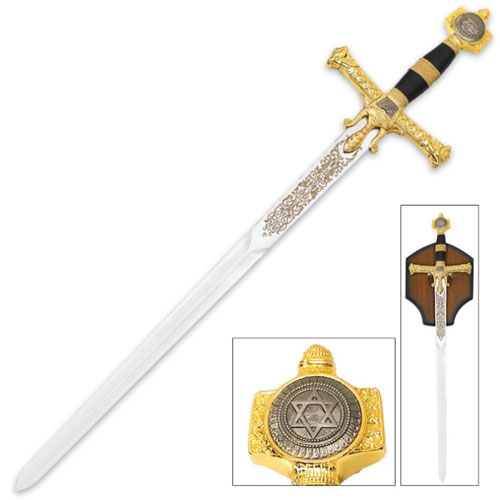 Medieval Swords:
King David Swords
Stainless Steel with Etch
Includes Wall Display Plaque
$119.99


King David Swords for sale are 47 inches in all and include a free display plaque. These King David Swords feature a mirror polished blade and shiny gold colored metal accents. The 36 inch blade is crafted of 440-stainless steel with a display ready, factory edge and ornate gold-colored medieval etchings. The guard features molded two-toned cast metal. A silver colored Star of David is engraved into the large gold colored metal pommel. These swords include a free large wooden display plaque. Buy the popular King David Swords for $119.99.