American Owned and Operated - 100% American Based Customer Service - Custom Sword Engraving - No Accounts Required
Knights Templar Sword with Custom Scabbard
Throughout the Middle Ages, swords became increasingly popular as metal technology progressed. Advancements in quenching and tempering of steel accelerated the popularity of edged blades. Swords were wielded during battle and were seen as a prestigious accessory. Medieval swords became the subjects of legends. Historical pieces still exist and are housed in museums around the world.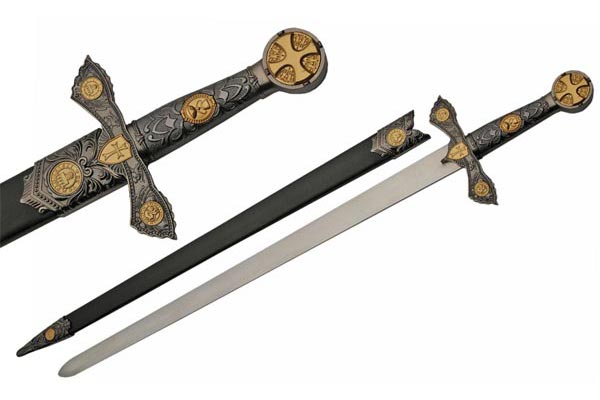 Medieval Swords:
Knight Templar Swords
Includes Custom Scabbard
$89.99


Medieval Knight Templar Swords are 33 inches in all. These swords pay homage to the famous 12th century Catholic military order known as the Order of Solomon's Temple, the Knights Templar or simply Templars who were skilled fighting units of the Crusades. The swords feature a 22 inch shiny, mirror polished stainless steel blade that has a display ready factory edge. The 7 inch handle is a deep pewter color and decorated with gold colored accents. The center of the crossguard features an engraved gold color kite shield bearing the Knight Templar cross. The gold color circular pommel also bears the famous cross. These swords include a black leather covered scabbard that has pewter and gold colored accents. Buy the popular Medieval Knights Templar Swords for $89.99.
---
Custom Engraving Services
$25.00


Custom engrave this piece with up to 60 characters of text. Swords can be individualized with names, phrases or credentials. This custom engraving service is ideal for ceremonies, personalized gifts and awards. The engraving will be placed above the guard on the right side of the sword blade and will read from left to right or from the hand guard to the blade point of the sword. Add the engraving service for only $25.00 per sword.
After purchased, just fill out the Engraving Form
---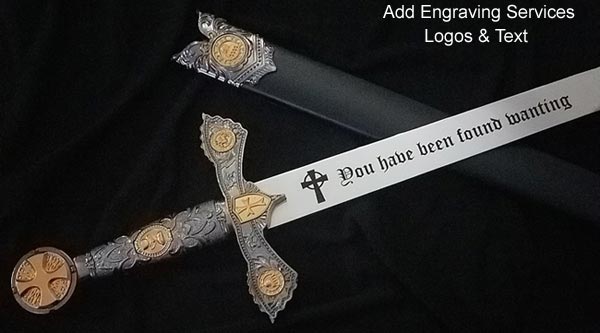 Click Here for More Engraving Options