American Owned and Operated - 100% American Based Customer Service - Custom Sword Engraving - No Accounts Required
Black Prince Display Sword with Custom Hilt
Throughout the Middle Ages, swords became increasingly popular as metal technology progressed. Advancements in quenching and tempering of steel accelerated the popularity of edged blades. Swords were wielded during battle and were seen as a prestigious accessory. Medieval swords became the subjects of legends. Historical pieces still exist and are housed in museums around the world.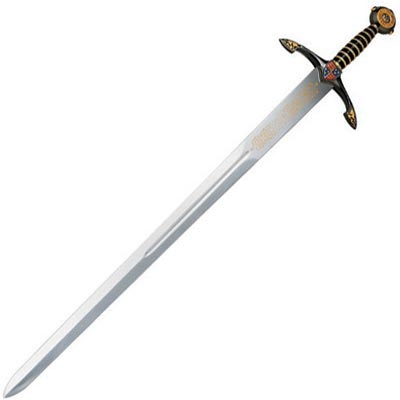 Medieval Swords:
Gladius Black Prince Swords
Quality Display Sword
$199.99


Medieval Black Prince Swords for sale are 44 inches in all. These swords feature real Toledo Steel and are made to honor the military skills of Edward of Woodstock the Black Prince. The beautiful mirror polished 34 inch blade is unsharpened and features a fuller groove. The blade is etched with gold colored medieval designs. The handle features a pattern of gold with black leather inserts. The guard features a multi-color Coat of Arms of King Edward III of England in the center and dragon emblems on the ends. The wheel pommel is black with gold colored accents. Edward's motto "HONNI SOIT QVT MAL Y PENSE" is featured on the reverse side of the sword. These swords are made in Toledo, Spain by Gladius. Buy the medieval Black Prince Swords for only $199.99. Complete your display with Engraving services and wall mounts.

Sword Engraving Services
Personalize Swords and Knives:
- As Low As $25 Per Piece
- Individualize Each Piece
- Engrave Logos and Text
- Engrave Names and Phrases
- Engrave Your Logo
- Choose From Assorted Fonts
Click Here To Customize
Military Swords
Award Ceremonies
Executive Gifts
Private Organizations
Holidays & Birthdays
Weddings & Celebrations