American Owned and Operated - 100% American Based Customer Service - Custom Sword Engraving - No Accounts Required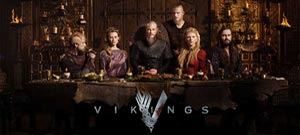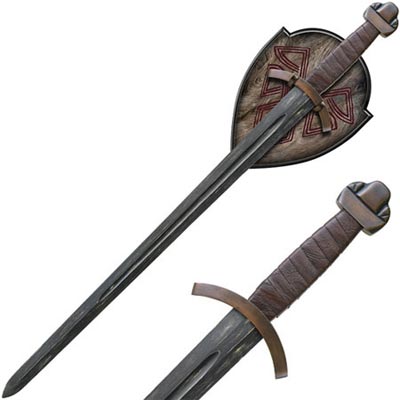 Viking Series Swords:
Sword of Lagertha
Includes Wall Display Plaque
Standard Edition
$179.99


Sword of Lagertha is 36 1/8th inches in all and weighs 2.7 pounds. These officially licensed swords are from the Vikings TV show and are based on the actual film prop. They have a 28 inch black 420 stainless steel blade. They feature an antiqued finish to give the sword a truly battle worn appearance. The brown leather wrapped handle is topped by a period style pommel. Both the pommel and guard are crafted in cast zinc. These swords include a Certificate of Authenticity and include a free wooden display plaque. Buy the Sword of Lagertha from the popular Vikings TV series for $179.99.
---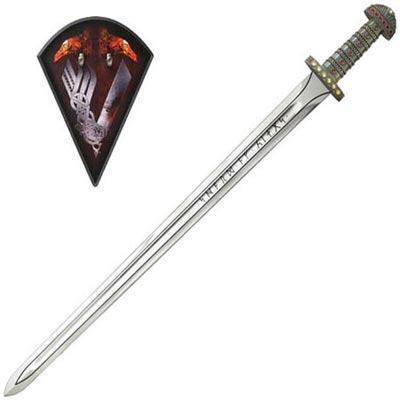 Viking Series Swords:
Sword of Kings
Includes Wall Display Plaque
Limited Edition
$219.99


The Sword of Kings for sale is from the Viking Series and is made by Shadow Cutlery. This full sized sword is 39 ½" overall and weighs 3.5 pounds. The blade is constructed of 420J2 stainless steel, mirror polished with Viking runes that translate to Sword of Kings. The pommel and guard is a cast zinc adorned with imitation gems, yellow, orange, ruby, and pearl white. This item includes a wall display plaque. The display is made of wood with water transfer Viking graphics. Each sword is Individually serialized and includes an official certificate of authenticity. Buy this limited edition sword for only $219.99.

---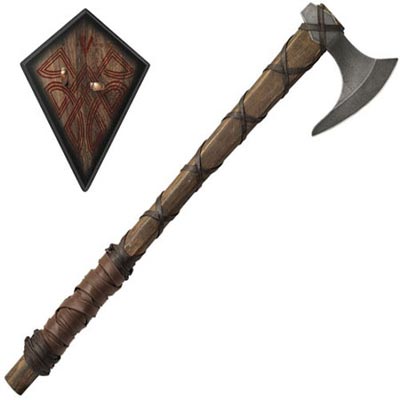 Viking Series Swords:
Axe of Ragnar Lothbrok
Includes Wall Display Plaque
Standard Edition
$139.99


The Axe of Ragnar Lothbrok for sale was used in all of his raids, and was the key to his victory over Earl Haraldson's in the epic season one battle. The Axe of Ragnar Lothbrok has been created from the actual television prop and has been weathered to look from the time period. The overall length is 25.75 inches and the axe has a total weight of 2.4 pounds. Cast stainless steel head is constructed of 2Cr13 stainless steel. The handle is adorned with real a leather wrap and cross stitch. Axe includes a wooden wall display plaque and certificate of authenticity. Buy the official Axe of Ragnar for only $139.99.