American Owned and Operated - 100% American Based Customer Service - Custom Sword Engraving - No Accounts Required
Scottish Swords, Basket Hilt Swords and Broadswords
Scottish Swords for sale come in a variety of historical and traditional styles. Claymores, basket guard swords, and William Wallace long swords are among some of the more popular Scottish swords available for purchase.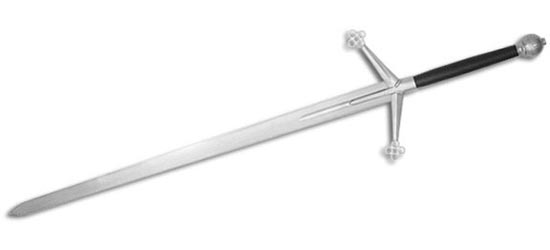 Scottish Swords:
Scottish Claymore Long Swords
Polished Steel
Functional
$469.99
Scottish Claymore Long swords are over 4 feet long, measuring a massive 54 ¾ inches in all. These functional swords are inspired by the design of real Scottish swords that were used by Highland warriors in the late 15th and 16th centuries. These contemporary Claymore Swords feature the famous hilt style of their authentic counterparts. Like traditional longswords, the 1566 carbon steel sharpened blade is long measuring 41 inches. The 14 inch handle is wrapped in real leather and topped off by a globate pommel. All of the metal parts of the sword are polished. These swords typically feature the following specifications: point of balance is 7 inches, width at guard 1.78 inch, width at tip 1.28 inch, thickness at guard .24 inch, thickness at tip .16 inches, point of harmonics is 31 inches. Buy the popular Scottish Claymore Swords for $469.99.

Sword Engraving Services
Personalize Swords and Knives:
- As Low As $25 Per Piece
- Individualize Each Piece
- Engrave Logos and Text
- Engrave Names and Phrases
- Engrave Your Logo
- Choose From Assorted Fonts
Click Here To Customize
Military Swords
Award Ceremonies
Executive Gifts
Private Organizations
Holidays & Birthdays
Weddings & Celebrations