American Owned and Operated - 100% American Based Customer Service - Custom Sword Engraving - No Accounts Required
Excalibur, Templar and Masonic Swords
Excalibur Swords for sale include a selection of functional and display swords. They are inspired by the famous Sword of King Arthur. Some of these popular designs include a wooden wall display plaque. Buy all types of Excalibur swords on sale now.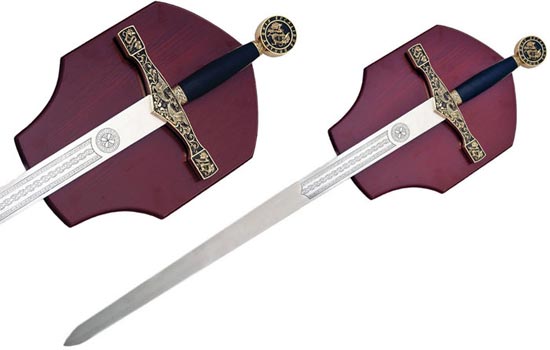 Excalibur Swords:
Excalibur Swords
Stainless Steel Blade with Etch
Includes Wall Display Plaque
$149.99



Excalibur Swords are 44 ¼ inches in all. These popular swords feature ornate medieval designs on the polished steel blade, a cast metal wheel pommel engraved with the name of King Arthur's Sword Excalibur and they include a display plaque. The metal handle and pommel have a black and antiqued golden color finish. The handle is further decorate with engravings of medieval dragons. The decorative 34 7/8th inch stainless steel blade is unsharpened. The included wooden display plaque is ready to hang on the wall and includes mounting hardware. The sword is not attached to the plaque, they are two seperate pieces. Buy these handsome Golden Excalibur Swords for only $149.99.