American Owned and Operated - 100% American Based Customer Service - Custom Laser Engraving - No Accounts Required
Custom Laser Engraving
Customize Swords and Knives
Up to 60 Chracters of Etched Text
** Veterans Weekend **
Free Laser Etching on Military Swords
One Etching Per Order | Ends 11-12
Military Etchings & Logos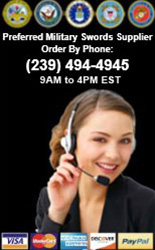 Monthly Specials
Swords and Knives

Movie Swords
Licensed Movie Replicas

Military Swords
Military & Cavalry Swords

Costumes
Museum Quality Costumes

Pirate Swords
Pirate Swords & Scimitars

Excalibur Swords
Excalibur, Mason & Templar

Sword Canes
Functional Sword Canes

Samurai Swords
Functional Samurai Swords

Cutting Katanas
Professional Katana Swords

Cobra Steel
Multi-Purpose Knives

Shinwa Katanas
Damascus Steel Katanas


International Orders | How to Order
All orders shipped outside of the United States are shipped through MyUs, an international shipping service.
The MyUS Service is available to more than 220 countries and territories including Australia, Egypt, Taiwan, New Zealand, Angola, United Kingdom, Ireland, Serbia, Turkey, Israel, Bahrain, Pakistan, Canada, United Arab Emirates and Japan.
This service provides you with a US-based address at a facility in the United States. MyUs will assist you with setting up and shipping to this address.
As a member, you instantly get a MyUS address that ships directly to a USA facility. When you are ready to ship, MyUS will consolidate your packages into one shipment, saving you up to 80%. It couldn't be easier.
Contact MyUs by Phone at: 1.941.227.4444

Make international shipping even easier with their: Personal Shopper Service
How Does the Personal Shopper Service Work?