American Owned and Operated - 100% American Based Customer Service - Custom Sword Engraving - No Accounts Required
Navy CPO Cutlass with Scabbard
Navy Swords for sale include historical and modern issue Naval styles. Historical Swords include Revolutionary and Civil War designs while modern military issue versions include the 1860 and CPO cutlass. Buy all types of popular Navy Swords on sale now.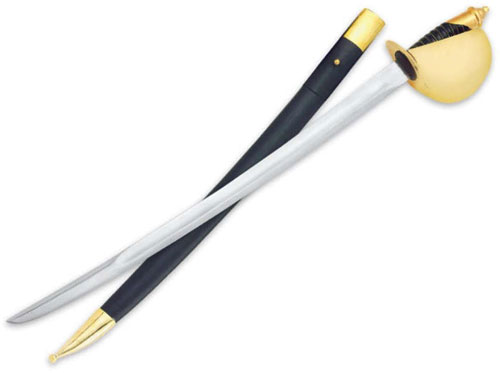 Military Swords:
1860 U.S. Navy Cutlass Swords
Carbon Steel Blade
Custom Scabbard
$89.99
1860 US Navy Cutlass Swords are 31 ½ inches overall. These swords are inspired by the real 1860 US Naval Cutlass that was used by the US Military. This version features an unsharpened 25 ½ inch carbon steel blade. The black leather handle features a gold wire wrap and a large brass colored cup hand guard. The leather covered scabbards feature polished gold colored metal fittings. Specs will vary slightly from piece to piece. Buy the 1860 Navy Cutlass Swords for $89.99.
---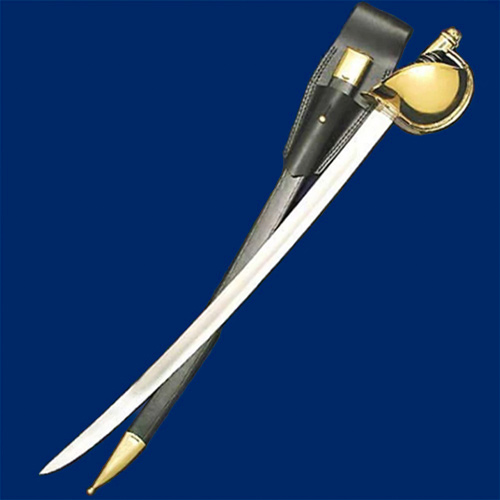 Military Swords:
U.S. Naval CPO Cutlass Swords
Premium Functional Cutlass
High Carbon Steel Blade
Includes Leather Frog and Scabbard
Government Specifications
$189.99


US 1860 Naval Cutlass Swords for sale are a compact 31 ½ inches in all. Manufactured of British military spec steel, these swords have a hand forged blade and will flex over 20° and return to true. They feature a 25 ½ inch blade and a genuine polished brass basket on the hand guard. These Navy swords are handmade and include a black leather scabbard with gold accents and a real leather frog. Buy the US 1860 Naval Cutlass Swords for $189.99.
---
Sharpen This Sword Add $20 - Price $209.99
---