American Owned and Operated - 100% American Based Customer Service - Custom Sword Engraving - No Accounts Required
Masonic Swords with Red Accented Handle
Masonic swords for sale include a selection of daggers, display swords and collectible designs. Display swords for sale are full sized swords that typically include display plaques. They are available in Mason, Knights Templar and King Arthur styles. The collection includes museum quality Freemason, religious, Catholic and Excalibur styles made in Spain by Marto. Buy all types of ceremonial Masonic swords and collectibles on sale now.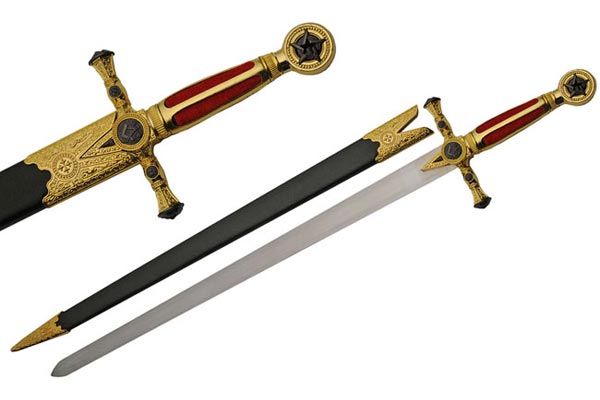 Masonic Swords:
Masonic Swords
Stainless Steel Blade
Matching Custom Scabbard
$89.99


Masonic Swords are 33 inches in all and feature red handle inserts and a beautiful mirror polished blade. These swords incorporate a Mason motif with Masonic symbols featured in the pommel, cross guard and handle. The 23 inch stainless steel blade is shiny and polished with a display ready factory edge. The circular pommel has a golden color finish and bears the popular five-pointed Masonic star. Eye-catching red inserts are showcased within the 7 inch golden handle. The gold color cross guard features the Square and Compasses, a traditional symbol of Freemasonry, that is darkened with an antique finish and ornate accents. The black scabbard bears intricate patterns on the golden color tip and throat. Buy these Masonic Swords for only $89.99.
---
Custom Engraving Services
$25.00


Custom engrave this piece with up to 60 characters of text. Swords can be individualized with names, phrases or credentials. This custom engraving service is ideal for ceremonies, personalized gifts and awards. The engraving will be placed above the guard on the right side of the sword blade and will read from left to right or from the hand guard to the blade point of the sword. Add the engraving service for only $25.00 per sword.
After purchased, just fill out the Engraving Form
---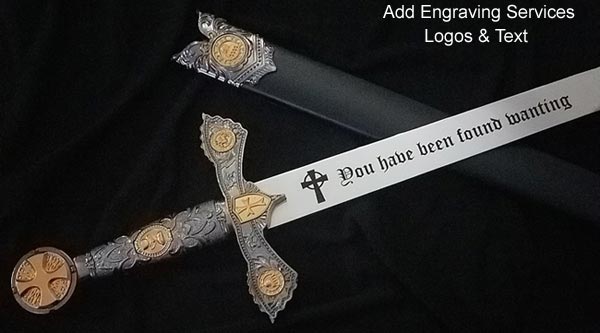 Click Here for More Engraving Options