US Army Officer and NCO Sabers
Military Swords for sale include all types of designs. The most popular swords include light and heavy cavalry sabers, officer and NCO swords. Buy all types of swords and sabers from modern US Military Swords to historical Union and Confederate designs on sale now. We are proud to be a preferred military supplier for over 24 years. GSA SmartPay credit cards are accepted. Customize with our laser engraving services.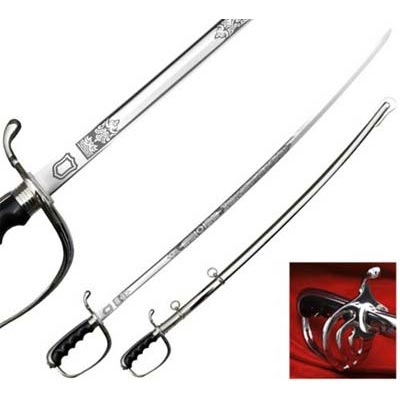 Army Swords:
US Army Officer Swords
High Carbon Steel Blade with Etch
Metal Scabbard with Hanging Loops
$219.99


US Army Officer Swords for sale are 37 ½ inches in all. These military swords are appropriately etched to US government specifications and feature a highly polished, sharpened 32 inch blade that is forged in heat treated 1055 carbon steel resulting in a tough spring temper. These sabers have a 5 ½ inch black composition handle with a finger groove. The hand guard, pommel and scabbard are crafted of polished steel. They include a cloth storage sleeve and weigh 22.1 ounces. Buy the US Army Officer Saber Swords for $219.99.

---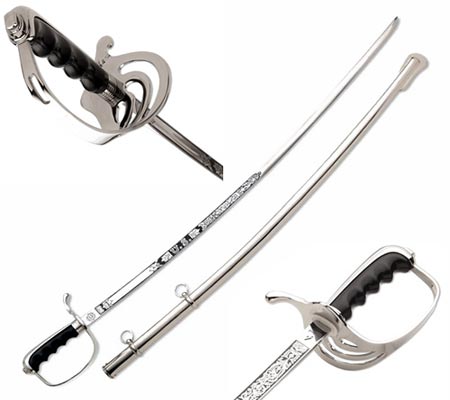 Official Military Swords:
U.S. Official Army Officer Swords
Government Specifications
$279.99



US Army Officer Sabers for sale are available in several blade lengths for a personalized fit. These premium military swords feature a stainless steel blade that is polished to a mirror finish. The blade has appropriate military etchings. They have a black composition handle with finger grooves. The hand guard, pommel and scabbard are crafted of polished steel. The scabbard features hanging rings. These popular swords include a cloth storage sleeve. Buy the US Army Officer Sabers for $279.99.
---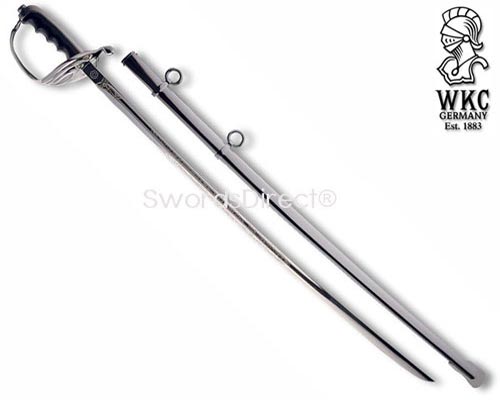 WKC Swords:
Army Officer Saber
Matching Scabbard
Military Specifications
Made in Solingen Germany
$429.99
Item: 88-100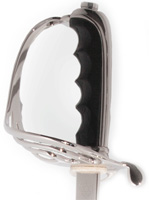 WKC Army Officer Swords have the M1855 design and feature a steel scabbard and cloth storage bag. These swords have a forged carbon steel blade that has an unsharpened edge. The blade is tempered to 48-55 HRC. The hand polished, elegantly curved blade features a blood groove on both sides. The handmade, acid etching has a historical design on both sides of the blade. The handle features a solid brass, nickel plated finish guard and a polished ABS grip. The handmade scabbard is crafted in seamless stainless steel with a nickel plated finish. The polished scabbard has brass fittings and hanging loops. These swords include a cloth storage bag and are handmade in Solingen, Germany. Buy the WKC Army Officer Swords for $429.99.