American Owned and Operated - 100% American Based Customer Service - Custom Sword Engraving - No Accounts Required

Reenactment Swords:
Hand-and-a-Half Swords
Blunt Reenactment Blade
$249.99


Practical Hand and a Half Albrecht Swords for sale are 43 ¾ inches in all and weigh 2 ¾ pounds. These functional non-pointed and un-edged swords are crafted to the requirements of stage combat and reenactment societies featuring 1/16th inch wide edges and a rounded tip. The fully tempered 34 inch blades feature a fuller and are crafted of 1065 high carbon steel that is hardened to 50HRC. They are hardened to provide resilience, protect against brittleness and permit edge notching to only acceptable levels. These Albrecht Swords have a 6 ½ inch hand and a half handle. The guard is 0.21 inch thick and 1.75 inches wide. They have a point of balance at 4 inches and point of harmonics at 23 inch. The tip is 0.51 inches wide and 0.19 inches thick. The scabbard has adjustable belt rings for a vertical or horizontal carry. The scabbard feature and glass-filled resin construction to eliminate swelling and diminish blade corrosion. Buy the Practical Hand and a Half Albrecht Swords for $249.99.
---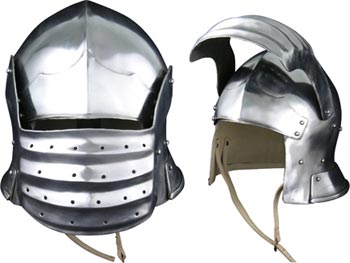 Get Dressed For Battle:
Bellows Faced Sallet
$199.99


Bellows Face Sallet Helmets for sale are battle ready helmets that weigh 6 pounds 8 ounces. The Bellows Face Sallet is inspired by popular headpieces used in medieval Europe during the 15th century. This Italian style Sallet helmet has short, rounded tails that closely fit to the back of the neck. The bellow style visor is extended on this helmet much like transitional helmets, circa late 15th century, that existed between sallets and the 16th century Maximilian style. These battle ready medieval helmets are designed for reenactment. They are manufactured of 14 gauge steel and have an adjustable leather liner and chinstrap. This large helmet can hold a forehead circumference up to 25 inches. Buy these Battle Ready Bellows Face Sallet Helmet for $199.99.

Sword Engraving Services
Personalize Swords and Knives:
- As Low As $25 Per Piece
- Individualize Each Piece
- Engrave Logos and Text
- Engrave Names and Phrases
- Engrave Your Logo
- Choose From Assorted Fonts
Click Here To Customize
Military Swords
Award Ceremonies
Executive Gifts
Private Organizations
Holidays & Birthdays
Weddings & Celebrations