American Owned and Operated - 100% American Based Customer Service - Custom Sword Engraving - No Accounts Required
Medieval Swords
Throughout the Middle Ages, swords became increasingly popular as metal technology progressed. Advancements in quenching and tempering of steel accelerated the popularity of edged blades. Swords were wielded during battle and were seen as a prestigious accessory. Medieval swords became the subjects of legends. Historical pieces still exist and are housed in museums around the world.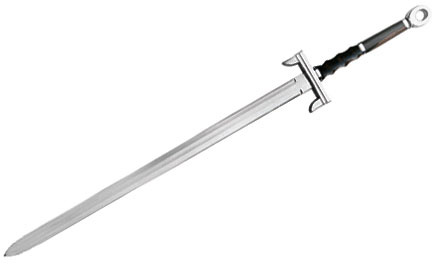 Medieval Swords:
Medieval King Swords
$349.99



Item Number: MDL54007
Handmade Sword
Overall Length: 38"
Blade Length: 28"
Handle Length: 10"
Blade Type: Full Tang
Weight: 4 Pounds
Blade Material: Sharpened, Tempered Hand Hammer Forged High Carbon Steel
Handle Material: Custom Finger Grooved Macassar Ebony Wood
Sheath Included: Custom Genuine Brown Leather Scabbard
These Medieval King Swords are functional medieval swords with an overall length of 38". This sturdy hand and a half sword has a custom hybrid Macassar Ebony wood handle. The top part of the handle has a custom finger grooved grip, the bottom half is smooth and tapered. The handle is separated with a solid steel spacer ring. The handle length is 10" overall. The polished full tang blade is fully sharpened, hand hammer forged, tempered high carbon steel. The cross guard and pommel are formed of thick solid steel for added durability. These handmade swords include a custom handmade genuine leather scabbard. Buy the popular Medieval King Swords while supplies last for $349.99.

Sword Engraving Services
Personalize Swords and Knives:
- As Low As $25 Per Piece
- Individualize Each Piece
- Engrave Logos and Text
- Engrave Names and Phrases
- Engrave Your Logo
- Choose From Assorted Fonts
Click Here To Customize
Military Swords
Award Ceremonies
Executive Gifts
Private Organizations
Holidays & Birthdays
Weddings & Celebrations