American Owned and Operated - 100% American Based Customer Service - Custom Sword Engraving - No Accounts Required
Battle Ready Swords and Medieval Reenactment Swords
Battle Ready Swords for sale include a wide variety of styles and sizes from top manufacturers. Full sized functional sharpened medieval swords are available as well as handmade medieval swords, medieval cutting swords and blunt edged reenactment swords. Buy these popular items made by Legacy Arms, CAS Iberia, Cold Steel, Medieval and others.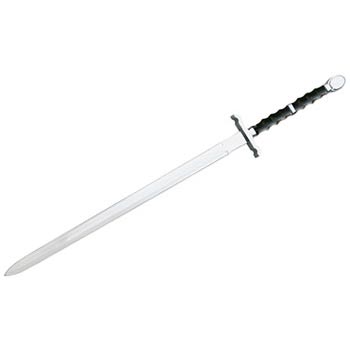 Medieval Swords:
Hand-and-a-Half Swords



Item Number: MDL54020
Handmade Sword
Overall Length: 38"
Blade Length: 26"
Handle Length: 10"
Cross Guard: 7".
Blade Type: Full Tang
Weight: 2.9 Pounds
Blade Material: Sharpened, Tempered Hand Hammer Forged High Carbon Steel
Handle Material: Custom Finger Grooved Macassar Ebony Wood
Sheath Included: Custom Genuine Brown Leather Scabbard
Hand-and-a-Half Swords or Bastard Swords: Called Hand and a Half Swords due to its lengthy handle, this style of sword saw great popularity in Europe north of the Alps in the second half of the 15th century. This 27 inch sword blade is quite versatile and capable of being wielded either one handed to allow the footman the use of the second hand for a shield or a second weapon, or two handed for tremendous power. The solid steel guard gives more than adequate hand protection while parrying swords and axe blows and the wheel pommel gives the whole sword a well balanced feel. A custom leather scabbard is included with this sword.


Sword Engraving Services
Personalize Swords and Knives:
- As Low As $25 Per Piece
- Individualize Each Piece
- Engrave Logos and Text
- Engrave Names and Phrases
- Engrave Your Logo
- Choose From Assorted Fonts
Click Here To Customize
Military Swords
Award Ceremonies
Executive Gifts
Private Organizations
Holidays & Birthdays
Weddings & Celebrations