American Owned and Operated - 100% American Based Customer Service - Custom Laser Engraving - No Accounts Required
Medieval Swords for Sale
Medieval Swords for sale are available in many different styles. Popular items in this category include battle ready, functional or display and collectible designs. Most have historical details or are inspired by real swords. Buy all types of medieval swords now on sale.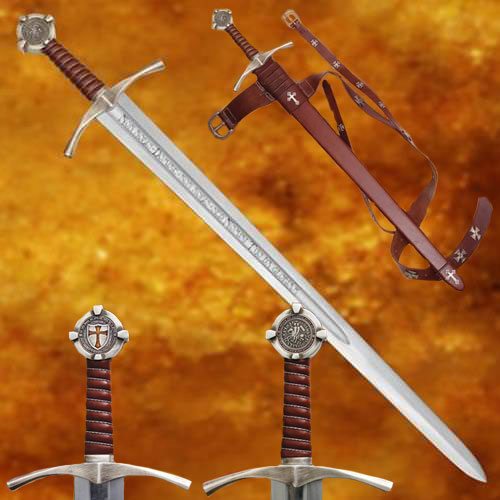 Medieval Swords:
The Accolade Sword
Sword of the Knights Templar
High Carbon Steel Blade
Includes Leather Belt Scabbard
$369.99


Accolade Sword of the Knights Templar for sale is 40 inches in all. These Accolade Swords honor the holy military order of the medieval Knights Templar. The blade is engraved with the Latin words: Non Nobis, Domine, Non Nobis, Sed Nomini Tuo Da Glorium, the creed of the Knights Templar - Nothing for us, Lord, nothing for us but for the glory of thy name. They have a 32 ½ inch functional blade that is 2 ½ inch wide and 3/16th inch thick. Each of these swords takes several hours to make. The high carbon steel blade is hand forged by master sword smiths who painstakingly work to make each blade durable and optimally balanced. The pommel features an ornately detailed Templar coin which has the famous red cross in a shield. The pommel has Latin inscriptions and medieval symbols of the Knights Templar Order. The handle is hand wrapped with rich, red genuine leather and finished with wire. The wooden scabbards are covered in a top grain, heavy duty leather and custom fit to each sword. The scabbard features a period belt with solid metal fittings. These swords are hand crafted and weigh 3 pounds 10 ounces Buy the handmade Accolade Swords of the Knights Templar for $369.99.
---
Sharpen This Sword - Add $20 - Price: $389.99