American Owned and Operated - 100% American Based Customer Service - Custom Laser Engraving - No Accounts Required
Medieval Swords for Sale
Medieval Swords for sale are available in many different styles. Popular items in this category include battle ready, functional or display and collectible designs. Most have historical details or are inspired by real swords. Buy all types of medieval swords now on sale.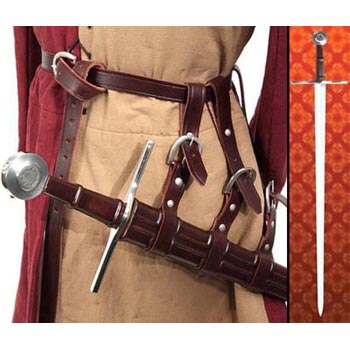 Medieval Swords:
Oakeshott Type XVIII Swords
High Carbon Steel Blade
Includes Belt and Scabbard
$369.99


Medieval Oakeshott Type XVIII Swords are 42 inches in all. Using the design of medieval German bastard swords, the Oakeshott Type XVIII features a traditional wheel pommel and high carbon steel blade. They feature a similar design to swords popular circa 1350. They have steel fittings and an etched pattern on the pommel. The wooden hand-and-a-half handle which features raised bands is wrapped in genuine brown leather. Real brown leather is also used for the ornate scabbard and sword belt that are included. The well-tempered high carbon steel blade is lightly hollow ground. The functional blade is 34 inches long, 1 7/8th inch wide and 3/16th of an inch thick. These medieval German bastard swords are handmade and weigh 3 pounds. Buy the historical Oakeshott Type XVIII Swords for $369.99.
---
Sharpen This Sword - Add $20 - Price: $389.99