American Owned and Operated - 100% American Based Customer Service - Custom Laser Engraving - No Accounts Required
Medieval Swords for Sale
Medieval Swords for sale are available in many different styles. These popular pieces are inspired by real swords, legendary figures or famous historical people. Buy all types of functional, battle ready and display medieval swords on sale now.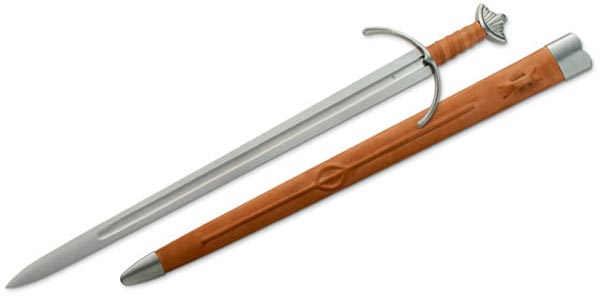 Medieval Swords:
Cawood Swords
5160 High Carbon Steel
Custom Scabbard
$349.99


Cawood Swords for sale are 35 5/8th inches in all and weigh 2 pounds 7 ounces. These swords are inspired by a real 11th century Viking sword that was discovered preserved in the mud of the bed of the River Ouse near Cawood Castle in England. This modern version features a functional 29 5/8th inch sharpened 5160 high carbon steel blade. A traditional lobated pommel tops the 4 inch handle. The well balanced Cawood features a wide fuller on the blade and a beautiful real leather scabbard. Buy these Cawood Swords for $349.99.