American Owned and Operated - 100% American Based Customer Service - Custom Laser Engraving - No Accounts Required
Medieval Swords for Sale
Medieval Swords for sale are available in many different styles. Popular items in this category include battle ready, functional or display and collectible designs. Most have historical details or are inspired by real swords. Buy all types of medieval swords now on sale.


Medieval Swords:
German Bastard Swords
High Carbon Steel Blade
$209.99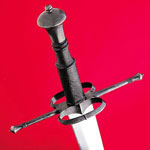 German Bastard Swords for sale are 38 ¾ inches in all. Modeled after a real 16th century sword from the famous Wallace Collection (A477), these German Bastard swords have a long grip for either single hand or two handed use. They have a well tempered, functional high carbon steel blade. The antique finish is hand applied to give each sword a one of a kind appearance. The 30 inch 1065 high carbon steel blade is 2 1/8th inch wide and 3/16th inch thick. The blade features a flattened oval cross section which limits resistance when cutting. The wooden grip is wrapped with cord and genuine leather. These swords are handmade and weigh 3 pounds 10 ounces. The scabbard features antiqued metal parts. Buy these historical German Bastard Swords for $209.99.
---
Sharpen This Sword - Add $20 - Price: $229.99