Cavalry Swords and Sabers for Sale
Cavalry Swords for sale are offered in single and discounted multi packs. The flat rate shipping discount applies for any quantity shipped to the lower 48 states. We carry a wide variety of options. Many are modeled after real historical military swords including the popular 1860 Light Cavalry Sabers, Heavy Cavalry Sabers, Union and Confederate swords as well as officer and official dress swords. We are proud to be a preferred military swords supplier for over 24 years. Government GSA credit cards are accepted. Buy all types of military swords and cavalry sabers all on sale now.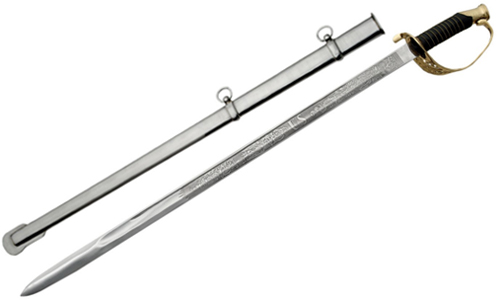 Artillery Swords
$59.99


Artillery Swords for sale are modeled after sabers issued around the time of the Civil War. These types of swords were used by army staff and non-commissioned officers (NCO). This contemporary version of these military sabers measures 38 inches in all. The unsharpened blade is manufactured of carbon steel and measures 32 inches. The blade features an ornate design and is etched with the initials US. These Artillery Swords have a brass-colored metal hand guard. The handle is crafted of black imitation leather with a brass-colored wire wrap. These military sabers include a matching metal scabbard. They are frequently used for military weddings, historical displays and are popular army swords. Buy these Artillery Swords for only $59.99.