American Owned and Operated - 100% American Based Customer Service - Custom Sword Engraving - No Accounts Required
CSA Cavalry Officer Swords
Cavalry Swords for sale are offered in single and discounted multi packs. The flat rate shipping discount applies for any quantity shipped to the lower 48 states. We carry a wide variety of Cavalry Swords modeled after real historical military swords including the popular 1860 Light Cavalry Sabers, Heavy Cavalry Sabers, Union and Confederate swords as well as officer and official dress swords. We are proud to be a preferred military swords supplier for Over 27 Years. Government GSA credit cards are accepted. Buy all types of military swords and cavalry sabers all on sale now starting at only $89.99.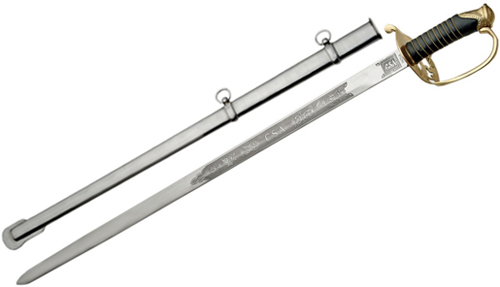 Military Swords:
CSA Shelby Officer Swords
$99.99


CSA Shelby Officer Swords for sale are 37 inches in all. These swords honor Confederate Cavalry General Joseph Shelby for his military service during the American Civil War. They feature a 30 inch unsharpened carbon steel blade that is etched with ornate patterns and the letters CSA. The metal handle is covered in black leather and features a brass colored wire wrap. This straight blade sword features a brass-color metal hand guard and brass-color metal pommel. The metal scabbard features hanging rings. Buy the CSA Officer Swords for $99.99.