American Owned and Operated - 100% American Based Customer Service - Custom Sword Engraving - No Accounts Required
U.S. Naval CPO Cutlass with Scabbard
Military Swords for sale include all types of designs. The most popular swords include light and heavy cavalry sabers, officer and NCO swords. Buy all types of swords and sabers from modern US Military Swords to historical Union and Confederate designs on sale now. We are proud to be a preferred military supplier for over 27 Years. GSA cards are accepted. Customize for awards and ceremonies with our engraving services.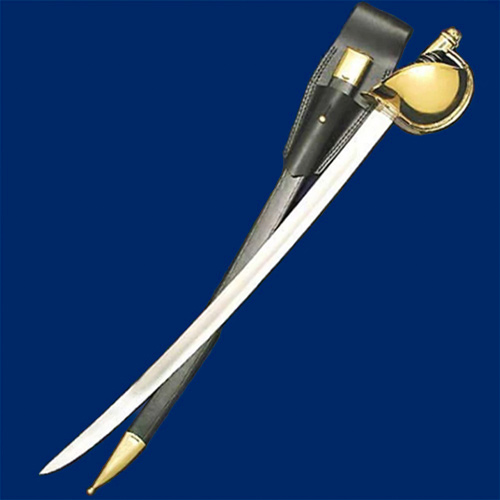 Military Swords:
U.S. Naval CPO Cutlass Swords
Premium Functional Cutlass
Sharpened High Carbon Steele
Includes Leather Frog and Scabbard
Government Specifications
$229.99


US 1860 Naval Cutlass Swords for sale are 31 ½ inches in all. These swords feature a high carbon British military spec steel blade that will flex over 20° and return to true. The leather scabbard features a brass tip and throat and features a real leather frog. They have a 25 ½ inch sharpened blade and a genuine polished brass basket on the hand guard. These Navy swords are handmade and include a black leather scabbard with gold accents and a real leather frog. Buy the US 1860 Naval Cutlass Swords for $229.99.
---

---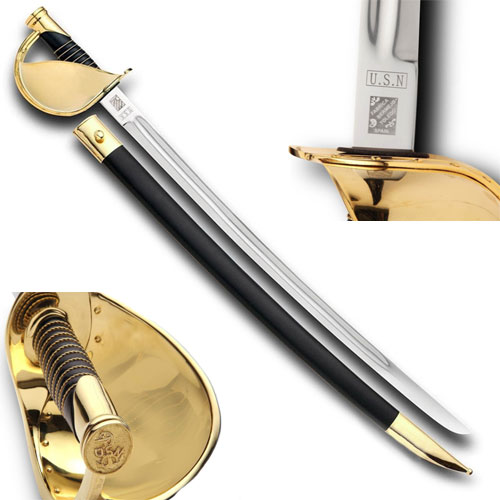 Military Swords:
Official Naval CPO Cutlass Swords
Toledo Spanish Steel
24K Gold Plating
Custom Leather Scabbard
Government Specifications
$389.99


This official Navy CPO Cutlass was developed in concert with the U.S. Naval Uniform Board. This elegant Cutlass features Toledo Spanish steel, 24K gold plating over solid brass pommel and guard with 11 gold plated rivets. The polished 26" blade has the proper etchings as well as the traditional "French curve" shape, this allows the execution of manual of arms. Cutlass has a premium leather wrapped grip with twisted gold wire strands. Also includes matching custom scabbard with 24K gold plated throat and tip as well as a protective cloth bag.