American Owned and Operated - 100% American Based Customer Service - Custom Sword Engraving - No Accounts Required
U.S. Naval CPO Cutlass with Scabbard
Military Swords for sale include all types of designs. The most popular swords include light and heavy cavalry sabers, officer and NCO swords. Buy all types of swords and sabers from modern US Military Swords to historical Union and Confederate designs on sale now. We are proud to be a preferred military supplier for over 28 Years. GSA cards are accepted. Customize for awards and ceremonies with our engraving services.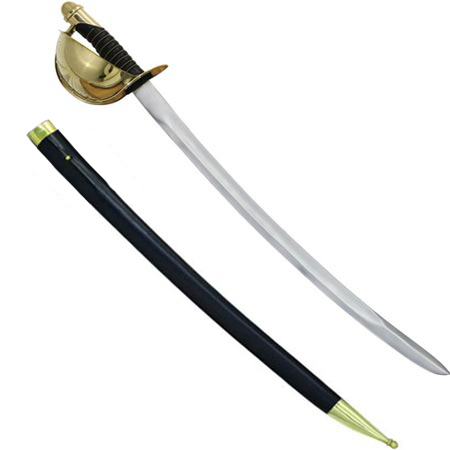 Military Swords:
Navy Cutlass Swords
Stainless Steel Blade
Custom Scabbard
$159.99
1860 US Naval Cutlass Swords are 33 inches in all. These popular swords are inspired by the actual 1860 US Navy Cutlasses that were used by the US Military. This cutlass features an unsharpened 27 inch stainless steel blade with a pointed tip. The black leather covered handle features a gold wire wrap and a large brass colored cup hand guard. The leather covered scabbard has shiny polished gold colored fittings. Buy these Navy Cutlass Swords for $159.99.
---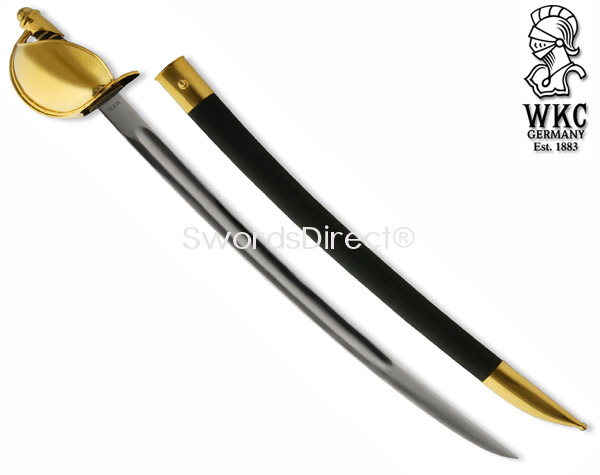 WKC Swords:
Navy CPO Cutlass
Matching Scabbard
Military Specifications
Made in Solingen Germany
$479.99
Item: 88-202


WKC Navy CPO Cutlass is handmade in Solingen, Germany. These swords feature a similar design to the original 1860 cutlass, but have been redesigned to reflect the new official standards of the Navy Uniform Board that were updated in 2011. The WKC Navy Cutlass features a polished stainless steel 26 inch blade that is etched with four different CPO anchors. USN is etched near the leather stop. The blade has a fuller and an unsharpened edge which makes them ideal for drills, ceremonies, military retirement presentations and display. The guard has a traditional French curve which allows the wearer to execute manual of arms. They have a leather grip that is wrapped with gold wire strands. The solid, cast brass guard is plated in 24kt gold and has a polished, mirror like finish. The mirror like shell is securely riveted with the traditional eleven rivets. The end cap is 24kt gold plated cast brass with the Navy Fouled Anchor and polished to a shiny, mirror polish. The scabbard features a steel insert to prevent sagging while being displayed. The scabbard is covered in real black calf leather. The swords include a cloth storage bag. Buy the WKC Navy CPO Cutlass for $479.99.
---


Sword Engraving Services
Personalize Swords and Knives:
- As Low As $25 Per Piece
- Individualize Each Piece
- Engrave Logos and Text
- Engrave Names and Phrases
- Engrave Your Logo
- Choose From Assorted Fonts
Click Here To Customize
Military Swords
Award Ceremonies
Executive Gifts
Private Organizations
Holidays & Birthdays
Weddings & Celebrations