American Owned and Operated - 100% American Based Customer Service - Custom Sword Engraving - No Accounts Required
Cavalry Swords Brown Handle 15 Pack Bulk Special
Cavalry Swords for sale are offered in single and discounted multi packs. The flat rate shipping discount applies for any quantity shipped to the lower 48 states. We carry a wide variety of options. Many are modeled after real historical military swords including the popular 1860 Light Cavalry Sabers, Heavy Cavalry Sabers, Union and Confederate swords as well as officer and official dress swords. We are proud to be a preferred military supplier for over 25 years. Government GSA credit cards are accepted. Laser engraving services are also available. Buy all types of military swords and cavalry sabers on sale now.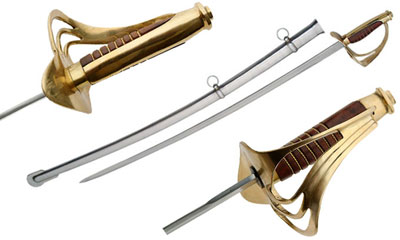 Cavalry Swords:
1860 Light Cavalry Swords
15 Piece Bulk Discount Pack
Fifteen Swords & Fifteen Scabbards
$794.85



Ten Pack Bulk Discount Price: $52.99 Each
Original Price: $69.99 Each
FREE SHIPPING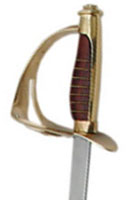 Cavalry Swords for sale are 40 inches in all when sheathed in the scabbard. These full sized cavalry swords are modeled after the 1860 Light Cavalry Saber except this version has a wooden handle intertwined with brass colored wire. They have a 32 7/8th inch unsharpened carbon steel blade and a metal scabbard with hanging rings. Similar to the historical M1860, the hand guard is crafted of brass colored metal. The handle is approximately 4 inches and each of these swords weigh 4 pounds with the scabbard. These 1860 Light Cavalry Sabers are popular with the US Military and frequently purchased by the National Guard, ROTC and military academies and universities. They are also popular for civilian ceremonies and weddings and used in movie and theatre productions. This 15 pack is offered at a discounted bulk price. Buy this Cavalry Sword Bulk Discount Pack on sale now for only $794.85.
---
15 Piece Bulk Laser Engraving
Three Free Laser Engravings
$300 for 15 Swords
15 Pack Bulk Discount Price: $300 | $20 Per Sword
Original Price: $375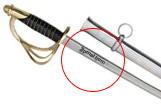 Customize swords with Laser Engraving. Custom Engrave up to 60 characters per sword. Each of the swords can be individualized with a different name, phrase or credentials. The engraving will be placed above the guard on the right side of the sword and will read from left to right or from the hand guard to the blade point of the sword. This bulk pack Laser Engraving includes three sword etchings. Orders are only charged for twelve swords, three Laser Engravings are included for free. Add the 15 Pack Laser Engraving service for only $300. After purchased, fill out form here.