American Owned and Operated - 100% American Based Customer Service - Custom Sword Engraving - No Accounts Required
1796 Light Cavalry Swords with Scabbard
Cavalry Swords for sale are offered in single and discounted multi packs. The flat rate shipping discount applies for any quantity shipped to the lower 48 states. We carry a wide variety of options. Many are modeled after real historical military swords including the popular 1860 Light Cavalry Sabers, Heavy Cavalry Sabers, Union and Confederate swords as well as officer and official dress swords. We are proud to be a preferred military supplier for Over 28 Years. Government GSA cards are accepted. Customize for awards and ceremonies with our engraving services.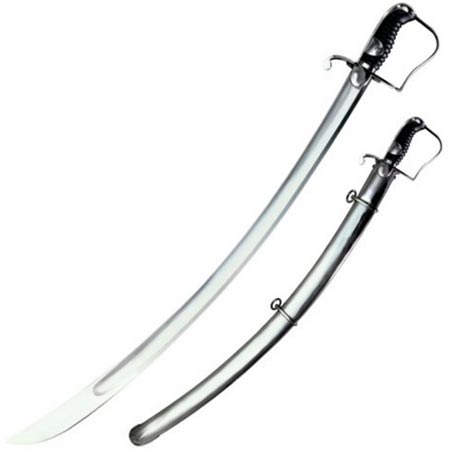 Miltary Swords:
1796 Light Cavalry Swords
Sharpened Blade
Metal Scabbard
$299.99


Cold Steel 1796 Light Cavalry Swords for sale are 37 ¾ inches in all. These cavalry sabers feature a 33 inch functional forged 1055 carbon steel, highly polished sharpened blade that has an ample fuller. They have a 4 ¾ inch, black leather wrapped handle with a steel hand guard and pommel. The scabbard is crafted of polished steel. They weigh 34.2 ounces and will pass the British Proof Test. These sabers are inspired by the design of a real sword that was wielded by the British military under General Blucher at the Battle of Waterloo. This design was so popular it was used by the German Cavalry until the start of the 20th century. Buy the Cold Steel 1796 Light Cavalry Swords for $299.99.

Sword Engraving Services
Personalize Swords and Knives:
- As Low As $25 Per Piece
- Individualize Each Piece
- Engrave Logos and Text
- Engrave Names and Phrases
- Engrave Your Logo
- Choose From Assorted Fonts
Click Here To Customize
Military Swords
Award Ceremonies
Executive Gifts
Private Organizations
Holidays & Birthdays
Weddings & Celebrations