American Owned and Operated - 100% American Based Customer Service - Custom Sword Engraving - No Accounts Required
Musketeers Cape and Clothing
Medieval and Renaissance Clothing for sale are available in a variety of different designs and themes. These museum quality garments are designed for medieval fairs, Renaissance festivals, pirate fests and period themed weddings. From boots to belts, gowns to hats, buy Medieval and Renaissance attire and accessories all on sale now.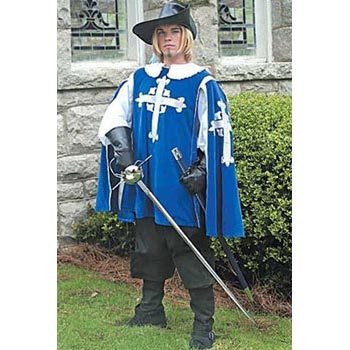 Musketeer Tabards:
Musketeer Tabard
Available in One Size
$169.99
Musketeers Tabards for sale include this handsome garment. This rich blue cotton velvet top, or Tabard, is entirely lined with matching satin. The front of the Tabard is decorated with the fully hand embroidered silver cross and fleur-de-lis pattern of the Three Musketeers. The side features this same hand embroidered design and a matching silver trim on the edges. These Three Musketeers costumes are generously cut with on size fitting most. These handsome swordsman costumes are crafted of 100% cotton. Add a hat or one of our fencing or medieval swords to complete this beautiful costume. Buy the Three Musketeers Tabard for $169.99.
100516
---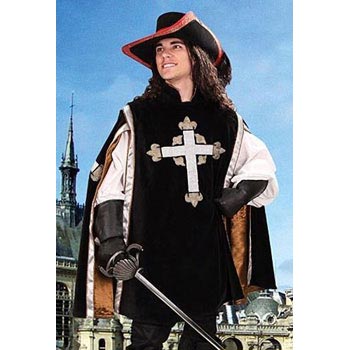 Musketeer Tabards:
Royal Musketeer Tabard
Available in One Size
$169.99
Royal Musketeer Tabards for sale feature an embroidered cross with a fleur de lis crown. These Royal Musketeer Tabards are inspired by Alexandre Dumas' The Man in the Iron Mask. They are crafted in rich black cotton velvet with a deep gold rayon lining. The cross pattern is featured on both the chest and sleeves of the tabard. They have an adjustable high collar for a regal appearance. One size fits most and they are dry clean only. Buy the Royal Musketeer Tabard for $169.99.
---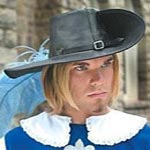 Musketeer Hats:
Musketeer Hat
$89.99
Leather Cavalier Hat for sale is the ideal cap for any Three Musketeers costume. Much like medieval and Renaissance hats seen in the movies, this hat features a fashionable band with buckle. It also has the famous up-turned side brim. The Three Musketeers Hat is crafted of fine black leather. The popular Leather Cavalier Hat is the perfect addition to top off any Three Musketeers costume. Simply add the Tabard, shirt and fencing sword to complete the costume. Available in size Medium - approx 7-1/4 inches or Large approx 7-3/4 inches. Buy this handsome Leather Cavalier Hat for $79.99.
---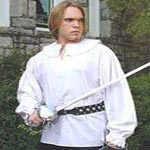 Musketeer Shirts:
Musketeer Shirt
$59.99
Three Musketeers costumes for sale include this lace collared shirt. This shirt was specifically manufactured to be worn underneath the velvet Tabard. However, the design is versatile enough to be worn with a variety of different outfits. Featuring a lace collar and lace on the puffy sleeves, this shirt could be used in a medieval or pirate costume. Simply add a tricorn hat and a cutlass or sword for a pirate costume. Or add a hat, Tabard and fencing sword for a Three Musketeers outfit. This shirt is manufactured of a polyester and cotton blend. Buy the Three Musketeers shirt for only $59.99.

---