American Owned and Operated - 100% American Based Customer Service - Custom Sword Engraving - No Accounts Required
Medieval Renassiance Gowns and Accessories
Medieval and Renaissance Clothing for sale are available in a variety of different designs and themes. These museum quality garments are designed for medieval fairs, Renaissance festivals, pirate fests and period themed weddings. From boots to belts, gowns to hats, buy Medieval and Renaissance attire and accessories all on sale now.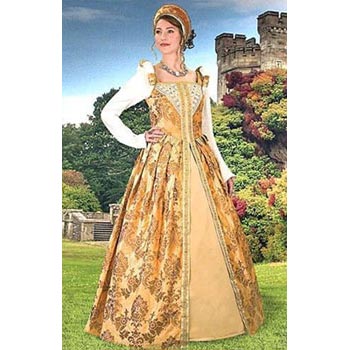 Renaissance Costumes:
Anjou Gowns
$339.99
Anjou Renassiance Gown for sale encapsulates the romance of the Renaissance Period. This courtly gown is manufactured of 100% cotton. The Anjou Gown features gorgeous brocades and extravagant trims. The gown features rounded shoulders for a historically accurate detail. This gorgeous gold gown has an elegant lace up back. These dresses can be worn as a beautiful Halloween costume or worn at any Renaissance festival or medieval faire. Fit for a queen, this golden gown could even be worn as a wedding dress. Buy the beautiful Anjou Gown for $339.99.

---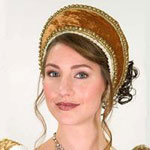 Renaissance Costumes:
Tudor French Hoods
$49.99
Tudor French Hood for sale is the perfect head piece for any historical or renaissance gown. These elegantly simple hats feature a stiff interior with a cotton velvet exterior. The popular Tudor French Hood has a white Tudor edge with gold trim. These medieval hats can be worn as a beautiful accessory to any Halloween costume, or worn at any Renaissance festival or medieval faire. Buy the Tudor French Hood for $49.99.
---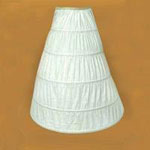 Renaissance Costumes:
Farthingale
$89.99
Farthingale for sale is an ideal addition to any Renaissance or medieval dress. The Farthingale was the precursor to the petticoat. This hooped undergarment accentuates the overall shape of any medieval dress or Renaissance gown. This farthingale is manufactured of a white, lightweight polyester cotton blend. It contains 5 metal rings. The farthingale requires some assembly. Five adjustable inner bands create the bone of the garment. The farthingale also has plastic, quick release buckles which permit the rings to be removed for washing. To add authenticity to any Renaissance gown, medieval dress or Halloween costume, buy the Farthingale for only $89.99.

---