American Owned and Operated - 100% American Based Customer Service - Custom Laser Engraving - No Accounts Required
USMC Sword Desktop Display
Military Swords is one of our most visited categories in our collection. As a preferred Military Supplier, Swords Direct has a great selection of Military Swords for sale. We carry Cavalry Swords, Marine Swords, Army Swords as well as high end Officer Swords. Historically accurate designs from the Revolutionary War through modern day issue Military Swords. We also carry Artillery Swords, CSA Dress Swords and Confederate Swords. Cavalry Swords starting at $49.99.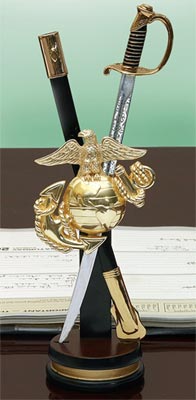 USMC Desktop Display
Sword Letter Opener
$79.99


USMC Sword Desktop Display for sale is a highly detailed letter opener. This letter opener is a scaled down replica of a real military sword featuring traditional US Marine Corps blade etchings and a scabbard. They feature a stainless steel blade and fittings finished in real 24kt gold. The stand is 7 ½ inches tall and the marine sword is 10 inches. When the sword is on the stand, the full height is 10 ½ inches. Buy the popular USMC Sword Desktop Letter Opener Display for $79.99.