American Owned and Operated - 100% American Based Customer Service - Custom Sword Engraving - No Accounts Required
US Marine Corps Officer Swords
Swords Direct offers hundreds of swords for sale. Shop over thirty categories of swords. Movie swords, display and practice swords in addition to functional Samurai Swords, Practical Katana Swords, Broadswords, Scimitar Swords, Pirate Swords and Medieval Swords. We accept all major credit cards and PayPal. We have been in business for over twenty years and selling swords online for over fifteen years.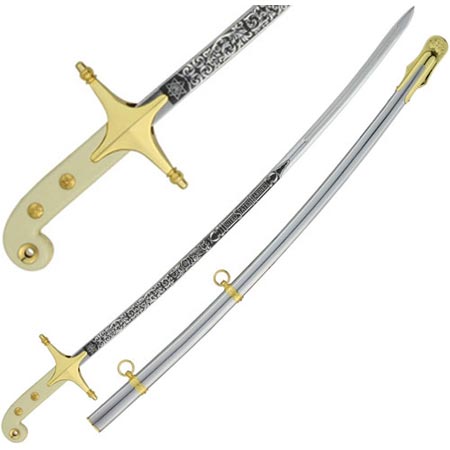 Marine Swords:
U.S. Marine Corps Officer Saber
Polished Steel Blade with Etch
Metal Scabbard with Hanging Loops
$479.99


US Marine Corps Officer Sabers feature a mirror finished steel blade that is engraved with United States Marines and decorative patterns. They have a traditional Mameluke design including a faux ivory handle. The brass guard is highly polished. These full tang swords have a factory-edged blade. They also include a mirror-finished metal scabbard with brass accents. Comes in three blade sizes, 28 inch blade, 30 inch blade and 32 inch blade. They are made in Spain. Buy these US Marine Corps Officer Swords for $479.99.