American Owned and Operated - 100% American Based Customer Service - Custom Sword Engraving - No Accounts Required
1860 Union Cavalry Officer Sabers with Scabbard
Military Swords for sale include all types of designs. The most popular swords include light and heavy cavalry sabers, officer and NCO swords. Buy all types of swords and sabers from modern US Military Swords to historical Union and Confederate designs. We are proud to be a preferred military supplier for over 28 Years. Customize swords for awards and ceremonies with our engraving services.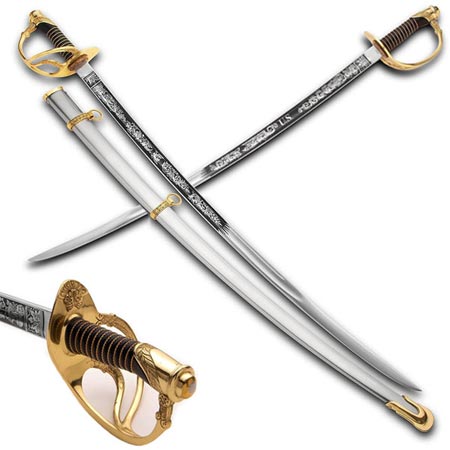 Military Swords:
1860 Union Cavalry Officer Swords
High Carbon Steel Blade
Custom Scabbard
$249.99
Model 1860 Union Cavalry Officer Swords for sale are 39 inches in all and weigh 2.19 pounds. These sabers are inspired by real military swords and feature historical blade etchings and engraving. The functional 33 inch unsharpened blade is hand forged in British military spec steel that will flex to over 20° and return to true. The handle features a real leather grip that has a traditional wire wrap. The brass pommel and brass three branch guard is hand chased and engraved. The 1065 high carbon steel blade is engraved with US and E Pluribus Unum. The blade also features an ornately etched pattern of foliage and military trophies. The steel scabbard has polished accents including a brass throat, rings and drag. Buy the Model 1860 Union Cavalry Officer Swords for $249.99.


Sword Engraving Services
Personalize Swords and Knives:
- As Low As $25 Per Piece
- Individualize Each Piece
- Engrave Logos and Text
- Engrave Names and Phrases
- Engrave Your Logo
- Choose From Assorted Fonts
Click Here To Customize
Military Swords
Award Ceremonies
Executive Gifts
Private Organizations
Holidays & Birthdays
Weddings & Celebrations