American Owned and Operated - 100% American Based Customer Service - Custom Laser Engraving - No Accounts Required
Masonic Lockback Pocket Knife with Gift Box
Masonic Swords and Daggers for sale include an assortment of styles modeled after Free Masonry, Knights Templar and the legend of King Arthur. This collection includes decorative and ceremonial swords from our online shop of Masonic Swords and daggers, many of which include display plaques.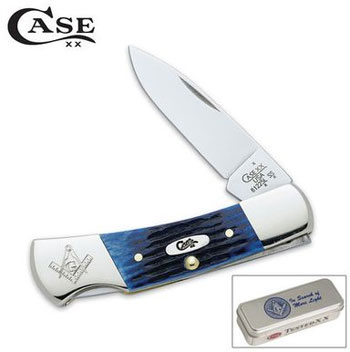 Masonic Swords:
Masonic Lockback Knife
$69.99


Masonic Lockback Knife is 3 inches when closed and weighs 1.9 ounces. These commemorative lockback knives feature a locking drop point blade. They have a Rogers Corn Cob jigged blue bone handle and are packaged in a gift tin. The knife and the tin package are decorated with Masonic symbols. The blade is engraved with Case and USA. Buy the Masonic Lockback Knife for $69.99.