American Owned and Operated - 100% American Based Customer Service - Custom Sword Engraving - No Accounts Required
Premium 1850 Foot Officer Sabers with Scabbard
Military Swords for sale include all types of designs. The most popular swords include light and heavy cavalry sabers, officer and NCO swords. Buy all types of swords and sabers from modern US Military Swords to historical Union and Confederate designs on sale now. We are proud to be a preferred military supplier for over 25 years. GSA SmartPay credit cards are accepted. Customize with our laser engraving services.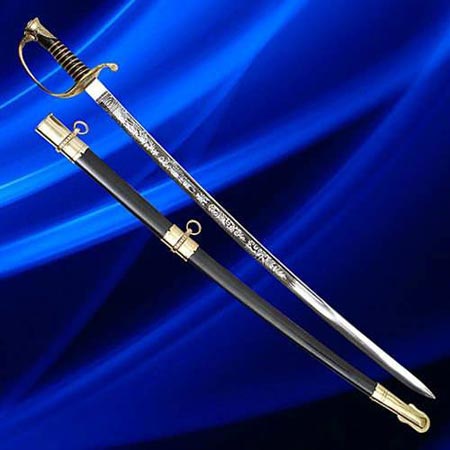 Military Swords:
1850 Foot Officer Swords
High Carbon Steel Blade
Custom Scabbard
$159.99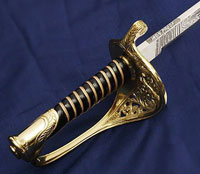 Model 1850 Foot Officer Swords for sale are 36 5/8th inches in all and weigh just under 2 pounds. These sabers are inspired by real military swords that were supplied to Army Foot Officers in the mid 19th century. This functional version features an unsharpened 31 inch blade that is a quarter of an inch thick and 1 1/8th inches wide. The tempered handmade high carbon steel blade is engraved with US and features an ornate etching of a floral pattern with branches and scrolls. These swords have a floral design on the solid brass guard and hilt. The real leather covered grip features a traditional wire wrap. The metal scabbard features a blackened finish with contrasting polished brass accents and brass mounts. Buy the popular Model 1850 Foot Officer Swords for $159.99.