American Owned and Operated - 100% American Based Customer Service - Custom Sword Engraving - No Accounts Required
Premium NCO Swords 5 Pack with Scabbards
NCO Swords include the popular Model 1840 NCO, US Army, USMC and Naval CPO cutlass. These sabers feature real leather scabbards or custom metal scabbards with hanging loops. They have historical designs and can be personalized with our Laser Engraving Service. We are proud to be a preferred military supplier for over 25 years. All credit cards, PayPal and GSA SmartPay credit cards are accepted.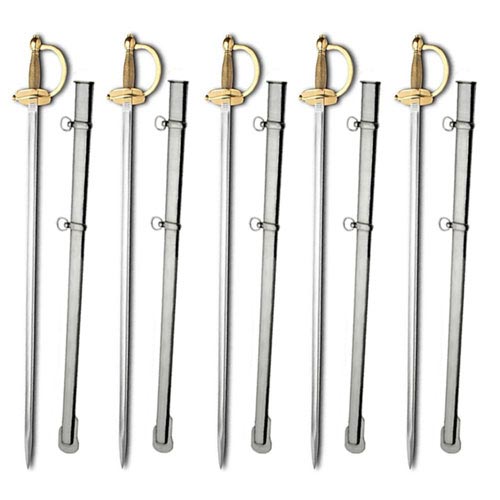 NCO Swords:
1840 Army NCO Swords
Functional Premium Edition 5 Pack
Five Swords & Five Scabbards
$649.95
Original: $139.99 Each
Bulk 5 Pack Discount: $129.99 Each
Entire Order Ships for only $15



1840 Army NCO Swords 5 Pack for sale are made with the same specifications as swords carried by the US military for over 70 years. These non commissioned officer swords feature a single edged, polished 1065 high carbon steel blade. The 31 ¾ inch high carbon steel blade has a single broad fuller that begins near the point and ends at the ricasso. The whole hilt is crafted of cast brass. They have a ribbed grip with a global pommel with capstan and a kidney-shaped hand guard on the grip. They are handmade and include a matching steel scabbard. This five pack includes five swords and five matching scabbards. They can be sharpened for an additional fee. Buy these popular premium edition NCO swords five pack with a discount for only $129.99 each.
---
Sharpen These Swords - Add $20 Each - Total Price: $749.95
---
More Discount Specials for this Item: 10 Pack Special