American Owned and Operated - 100% American Based Customer Service - Custom Sword Engraving - No Accounts Required
Functional Albrecht Swords
Viking Swords for sale include a wide selection of styles made by popular manufacturers. Many of these Viking Swords are inspired by real swords that were wielded in medieval Europe. Blade options available include functional and blunt reenactment. Buy all types of Viking Swords, axes and more on sale now.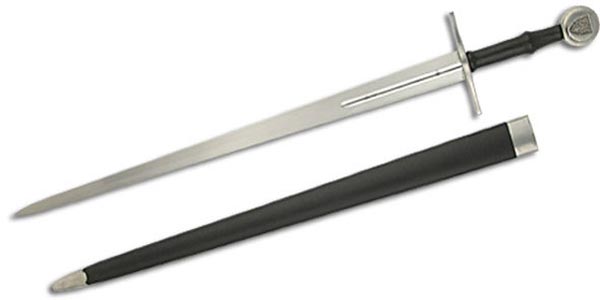 Battle Ready Swords:
Albrecht Swords
Hand-and-a-Half
Functional Edged Blade
$299.99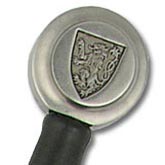 Albrecht Swords for sale are 44 ½ inches in all and weigh 3 ¼ pounds. These popular hand-and-a-half swords are inspired by a real 15th century sword that was thought to be the sword of Albrecht II of Austria. They feature a functional and sharpened 34 ¾ inch 1566 steel blade. The classic medieval design includes a flattened diamond blade section and a cruciform hilt. The pommel is engraved with the Lion Rampart, the emblem of the House of Habsburg. The blade fuller features the Passau Running Wolf guild mark and a marigold maker mark. The grip and the scabbard feature a genuine leather wrap. The hand and a half length handle is 10 inches. These swords have a point of balance at 5 ½ inches and a point of harmonics at 21 ½ inches. They have a 2 inch guard width and 0.24 inch guard thickness. The tip is 0.9 inch side and 0.20 inches thick. Buy the medieval Albrecht Hand-and-a-Half Swords for $299.99.
---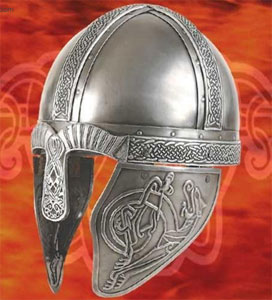 Medieval Battle Helmets:
Embossed Viking Helmets
18 Guage Steel
$229.99


Embossed Viking Helmets for sale weigh 3 pounds 12 ounces. These handmade Medieval Viking Helmets are made of antiqued finish 18 gauge steel. They are full size and wearable. They feature an adjustable leather liner with a chinstrap. These medieval helmets have ornate details engraved into the crown and nose guard. The hinged cheek plates have a raised decoration of a Celtic Hound, the famous dogs of ancient Irish legends. The inner circle of the helmet measures approximately 26 inches. Buy the Medieval Embossed Viking Helmets for $229.99.