American Owned and Operated - 100% American Based Customer Service - Custom Sword Engraving - No Accounts Required
Seax Viking Swords with Leather Sheath
Viking Swords for sale include a wide selection of styles made by popular manufacturers. Many of these Viking Swords are inspired by real swords that were wielded in medieval Europe. Blade options available include functional and blunt reenactment. Buy all types of Viking Swords, axes and more on sale now.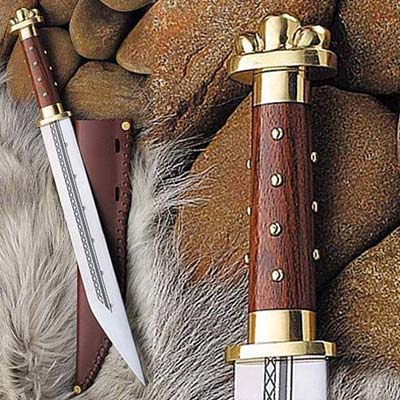 Viking Swords:
Seax Viking Short Swords
$129.99


Seax Viking Short Swords for sale are 19 inches in all. This contemporary variation of an ancient Viking seax is based upon a real short sword used around the year 750. Seax like this one were carried in medieval Northern Europe. They were the popular short sword of the Saxons, Vikings and German tribes. This Seax short sword features a 13 inch high carbon steel blade. The flat ground blade is 1 5/8th inch wide and 1/8th inch thick and features medieval Viking etchings on each side. They have a traditional lobed pommel. Both the pommel and the guard are manufactured of real brass. The wooden grip is studded with brass tacks which gives the Viking Seax a comfortable and secure grip. They have a leather scabbard which features a traditional lace design. These short swords are handmade and weigh 1 pound. Buy the Seax Viking Short Swords for $129.99.
---
Sharpen This Sword - Add $20.00 - Price: $149.99
---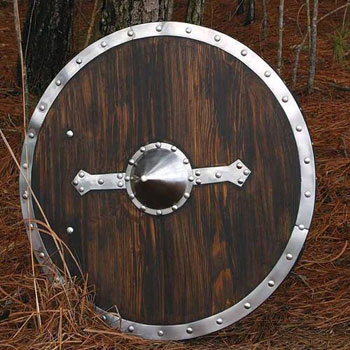 Medieval Shields:
Viking Shield
Full Size Shield
Solid Wood and Steel
$219.99


Medieval Viking Shields for sale are crafted of solid wood. These round wooden Medieval Viking Shields feature a dark brown stain. They have a conical steel shield boss, or umbo, in the center. The decorative strips and rim and the shield boss are all bolted on. The back of these Viking Shields is covered in felt. They feature a grip and an arm strap. They weigh approximately 13 pounds with a 29 inch circumference. They are ½ an inch thick. Buy these round Medieval Viking Shields made of wood with metal accents for $219.99.