American Owned and Operated - 100% American Based Customer Service - Custom Sword Engraving - No Accounts Required
Medieval Viking Battle Axes with Tempered Steel Edge
Medieval axes for sale are available in a variety of styles. Most of these medieval axes feature hardwood shafts, steel axe heads and are designed like real axes that were used in Europe and by Vikings. Buy all types of popular medieval axes, maces and functional battle replicas all on sale now.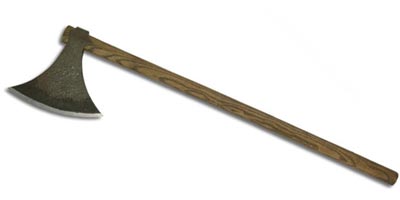 Medieval Battle Axes:
Viking Battle Axes
Sharp Tempered Edge
Functional Piece
$139.99


Medieval Viking Battle Axe for sale features a forged head with a sharpened, tempered blade. The Medieval Viking Battle Axe measures 35 inches in all with an 8 ¾ sharpened blade. The forged axe head has an antique fire gray finish with a polished edge. They feature a hardwood shaft. They weigh approximately 4 pounds, 8 ounces and have a thickness at the guard of 0.82. Buy the Medieval Viking Battle Axe for $139.99.
---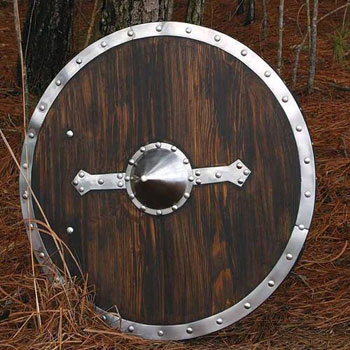 Medieval Shields:
Viking Shield
Full Size Shield
Solid Wood and Steel
$219.99


Medieval Viking Shields for sale are crafted of solid wood. These round wooden Medieval Viking Shields feature a dark brown stain. They have a conical steel shield boss, or umbo, in the center. The decorative strips and rim and the shield boss are all bolted on. The back of these Viking Shields is covered in felt. They feature a grip and an arm strap. They weigh approximately 13 pounds with a 29 inch circumference. They are ½ an inch thick. Buy these round Medieval Viking Shields made of wood with metal accents for $219.99.