American Owned and Operated - 100% American Based Customer Service - Custom Sword Engraving - No Accounts Required
Shikoto Kogane Dynasty Sword with Custom Saya
Bushido Swords for sale are available from popular manufacturers like Ten Ryu, Musashi, Hanwei and more. All of these traditional Japanese swords feature sharpened blades and include scabbards. This collection includes samurai katanas, tanto and wakizashi length pieces. Buy Bushido swords, samurai katanas and more all on sale now.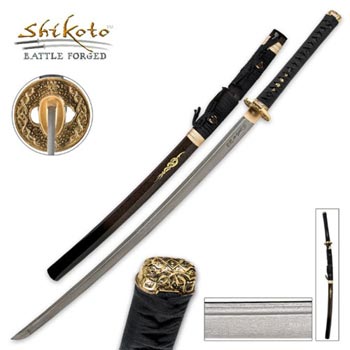 United Cutlery Swords:
Kogane Dynasty
Forged Katana Swords
Damascus Steel Blade


Bushido Swords from the Shikoto Collection include the beautiful and functional Gold Kogane Dynasty Forged Damascus Katana Sword. These swords measure 41 ¼ inches overall. The blade measures 30 inches and features 1792 layers of exceptional samurai strength and beauty. These powerful samurai swords feature an oversized guard with polished brass menuki, and a ray skin handle with cord wrappings. The exquisite Gold Kogane Dynasty Forged Damascus Katana Sword includes a coordinating hardwood scabbard. These hand forged samurai blades are imprinted with the exclusive laser etched tang stamp.