American Owned and Operated - 100% American Based Customer Service - Custom Sword Engraving - No Accounts Required
Dragon King Spring Functional Katana
Dragon King Swords for sale include elegant sword canes, Chinese longswords and samurai katanas. The Seasonal series features entry level cutting katanas made with traditional construction, like real ray skin and 5160 high-carbon steel through-hardened blades. Sword canes for sale include designs featuring genuine rosewood or carbon fiber shafts. Buy all types of traditionally built swords, canes and longswords by Dragon King on sale now.




Dragon King Swords:
Spring Sakura Katana Swords
Functional Sharpened Blade
$479.99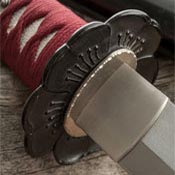 Dragon King Spring Sakura Katana Swords for sale are 39 ¾ inches in all. The Spring Sakura are samurai katana swords that have the Japanese cherry blossom motif and are designed for cutting soft and semi-hard targets. They have a sharpened 27 inch, through tempered, forged 5160 high carbon steel blade. The 11 ¼ inch wooden core handle features a traditional crimson colored Japanese wrap and real ray skin. The blackened stainless steel tsuba is beautifully detailed and forms the shape of a Sakura, the Japanese word for cherry blossom. These swords have a silver blade collar. They are marquenched to an edge hardness of 57HRc with soft and semi-hard target cutting geometry. The kissaki, or point, is 1 ½ inches. In keeping with the Japanese Sakura motif, the handle ornament (menuki) is a beautifully detailed antiqued silver color cherry blossom. The black lacquer wooden scabbard features genuine buffalo horn at the mouth and black cord. They weigh 2 pounds 9 ounces. Buy the Dragon King Spring Sakura Katana Swords for $479.99.

Sword Engraving Services
Personalize Swords and Knives:
- As Low As $25 Per Piece
- Individualize Each Piece
- Engrave Logos and Text
- Engrave Names and Phrases
- Engrave Your Logo
- Choose From Assorted Fonts
Click Here To Customize
Military Swords
Award Ceremonies
Executive Gifts
Private Organizations
Holidays & Birthdays
Weddings & Celebrations