American Owned and Operated - 100% American Based Customer Service - Custom Laser Engraving - No Accounts Required
M48 OPS Survival Series Trench Shovel
M48 OPS Series for sale are made by United Cutlery. Shop and buy from a large selection of unique blades and tools from M48 Ops. Items include modern survival knives, axes, tomahawks, survival spears, machetes, bowie knives, harpoons and more.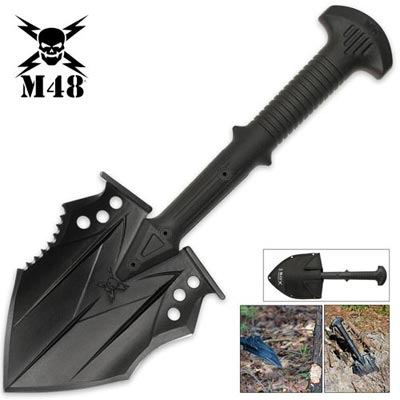 M48 Kommando Series:
M48 Trench Shovel
Includes Sheath
$59.99


M48 Kommando Trench Shovel for sale measures 16 ¼ inches in all. They feature a black oxide coated tempered 2Cr13 stainless tool steel shovel head. They are a featured item in the M48 Collection made by United Cutlery. The blade of the M48 Kommando is sharpened on both sides. The 6 7/8th by 5 ½ inch shovel head has a serrated edge on one side and a concave chopping edge on the other. Popular with the military, these shovels have multiple lashing holes for ultimate functional performance. The black injection molded handle features 30% fiberglass and a sturdy nylon reinforcement. In order to easily carry the Kommando in the field, these shovels also include a black reinforced nylon belt sheath. These versatile survival shovels are an excellent companion for camping, military operations etc. Buy the M48 Kommando Survival Shovels for $59.99.