American Owned and Operated - 100% American Based Customer Service - Custom Sword Engraving - No Accounts Required
M48 OPS Kommando Series Talon Spear with Sheath
M48 OPS Series for sale are made by United Cutlery. Shop and buy from a large selection of unique blades and tools from M48 Ops. Items include modern survival knives, axes, tomahawks, survival spears, machetes, bowie knives, harpoons and more.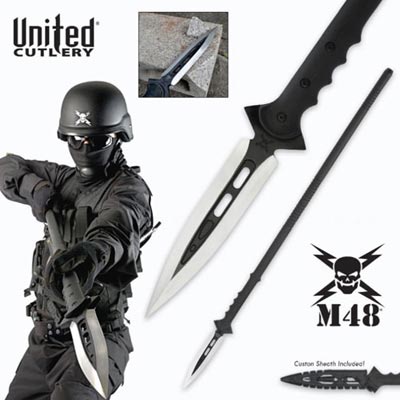 M48 Series:
M48 Kommando Talon Spear
Lightweight Design
Includes Blade Sheath
$129.99


M48 Talon Survival Spear is from the Komando Series of blades and tools manufactured by United Cutlery. This collection features lightweight construction and functional blades making them a popular choice for hard use. The M48 Talon Survival Spear measures 44 ¼ inches in all. They have a sharpened, precision cast 2Cr13 stainless steel 8 inch blade that is almost half an inch thick. The blade is securely attached to the sturdy nylon reinforced 30% fiberglass handle. They also include a rubberized blade sheath. Buy the popular M48 Talon Survival Spear for $129.99.

Sword Engraving Services
Personalize Swords and Knives:
- As Low As $25 Per Piece
- Individualize Each Piece
- Engrave Logos and Text
- Engrave Names and Phrases
- Engrave Your Logo
- Choose From Assorted Fonts
Click Here To Customize
Military Swords
Award Ceremonies
Executive Gifts
Private Organizations
Holidays & Birthdays
Weddings & Celebrations