American Owned and Operated - 100% American Based Customer Service - Custom Laser Engraving - No Accounts Required
M48 Survival and Tactical Equipment
M48 Tactical Series for sale are made by United Cutlery. Shop and buy from a large selection of unique blades and tools for military operations and tactical use. Items include modern survival axes, tactical tomahawks, survival spears, machetes, bowie knives, harpoons and more.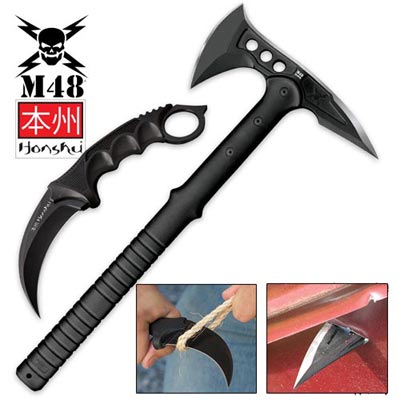 M48 Tactical Series:
M48 Hawk Axe & Karambit Combo
$79.99


M48 Hawk Axe and Karambit Combo for sale includes pieces from the M48 Collection by United Cutlery and Honshu. The M48 Collection is a lightweight and functional collection of items which are popular for military use and tactical operations. This set includes the sharpened M48 Hawk Axe which has a wide, upswept 8 inch axe blade made of precision cast 2cr13 stainless steel and a 30% fiberglass reinforced handle. The axe measures 15 inches in all and has a nylon snap button sheath. The Karambit knife measures 8 ¾ inches in all with a 4 inch blade. The sharpened Honshu Karambit Knife features a 7cr13 stainless steel blade with a black coating. It has an over molded handle which has an open hole pommel design to provide an easy grip. The Honshu Karambit Knife also includes an ABS sheath with a nylon shoulder harness. Buy this set of popular pieces, the M48 Hawk Axe and the Honshu Karambit Combo for $79.99.