M48 OPS Series Spear & Hammer Combo
M48 OPS Series for sale are made by United Cutlery. Shop and buy from a large selection of unique blades and tools from M48 Ops. Items include modern survival knives, axes, tomahawks, survival spears, machetes, bowie knives, harpoons and more.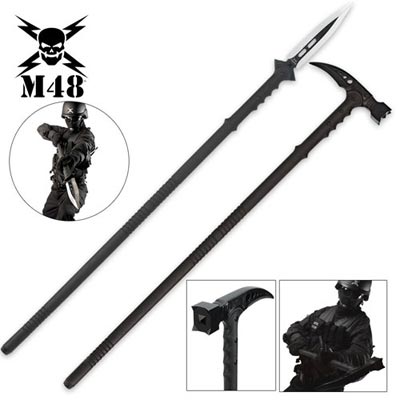 M48 Series:
M48 Kommando Combo
Hammer & Spear
$159.99


M48 Combo features two pieces from the M48 Kommando collection. This set includes the M48 Survival Hammer and the M48 Survival Spear both made by United Cutlery. The M48 Survival Hammer measures 37 inch in all. The 30% fiberglass handle is meticulously crafted in the design of a cane, and is nearly indestructible. The cane handle features a war hammer head and a curved back spike. The cane includes a rubber toe on the end of the cane. The M48 Survival Spear measures 44 inches overall. It has an 8 inch, functional and sharp stainless steel blade that is nearly half an inch thick. The blade is manufactured of cast 2Cr13 stainless steel with a non-reflective black oxide-coating. The spear also has a 30% fiberglass handle that is nearly indestructible. The axe head is attached to the handle with metal bolts. Each piece includes a rubber blade sheath. Buy the M48 Kommando Combo for $159.99.