American Owned and Operated - 100% American Based Customer Service - Custom Sword Engraving - No Accounts Required
Ryumon Dragon Samurai Swords with Custom Fittings
Ryumon Samurai Swords for sale are high quality katana swords. These handmade samurai swords are manufactured by Ryumon and built using traditional Japanese methods. They are hand forged and hand sharpened. The katana blades are manufactured of 1065-1095 high carbon steel or made with Damascus steel. The steel is clay tempered which produces the authentic Hamon. All of these Ryumon swords feature real ray skin, fine cotton and silk weave on the handles and hand painted and hand lacquered scabbards. Buy all types of Ryumon samurai swords on sale now.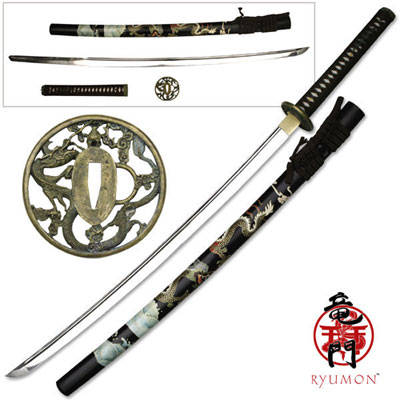 Ryumon Swords:
Dragon Samurai Swords
High Carbon Steel Blade
Custom Scabbard
$329.99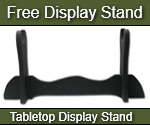 Ryumon Dragon Samurai Swords for sale include this 41.5 inch samurai katana. These samurai swords are handmade by Ryumon and feature a sharpened 1065 high carbon steel katana blade. The blade is a robust 7mm thick and measures 28.7 inches long. It features an authentic blood grove. These katanas have a fierce dragon motif. A dragon is engraved in the bronze tsuba. A hand painted dragon also appears on the black lacquered scabbard. The 11 inch handle features a traditional Japanese wrap and real premium ray skin. These swords include a sword bag, cleaning kit and a certificate by Ryumon. Buy the Ryumon Dragon Katana Swords for $329.99.


Sword Engraving Services
Personalize Swords and Knives:
- As Low As $25 Per Piece
- Individualize Each Piece
- Engrave Logos and Text
- Engrave Names and Phrases
- Engrave Your Logo
- Choose From Assorted Fonts
Click Here To Customize
Military Swords
Award Ceremonies
Executive Gifts
Private Organizations
Holidays & Birthdays
Weddings & Celebrations