American Owned and Operated - 100% American Based Customer Service - Custom Sword Engraving - No Accounts Required
Russian Shashgua Cavalry Saber with Scabbard
Scimitar Swords and Shamshir Swords in assorted styles and sizes. These popular curved bladed swords are available in short decorative sizes made of stainless steel to functional high carbon steel Scimitar Swords.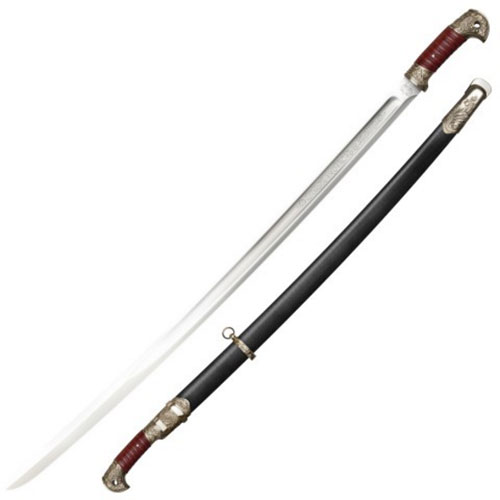 Scimitar Swords:
Russian Shashgua Cavalry Sabers
High Carbon Steel Blade
Custom Scabbard
$419.99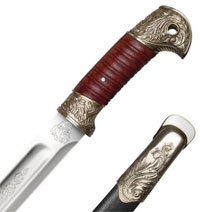 Cold Steel Russian Shashqua Swords for sale are 37 5/8th inches in all and weigh 2 pounds. The Shashqua or Shashka Swords are inspired by real Russian cavalry sabers that were popular with Cossack warriors. This modern version features a highly polished and sharpened 32 inch functional 1060 carbon steel blade that terminates in a spear-like point. The broad and curved blade has a deep fuller and features an intricate medieval etching. The 5 5/8th inch handle features a burgundy leather wrapped grip and is topped by a brass hook shaped pommel with a lanyard hole. These swords feature the historical Shashqua design where the handle fits flush into the mouth of the scabbard. The real leather covered wooden scabbard is accented by intricately engraved brass fittings. Buy the Cold Steel Russian Shashqua for $419.99.

---
See More Russian Shasqua Cavalry Swords