American Owned and Operated - 100% American Based Customer Service - Custom Sword Engraving - No Accounts Required
Functional Falchion Sword with Custom Scabbard
Scimitar Swords and Shamshir Swords in assorted styles and sizes. These popular curved bladed swords are available in short decorative sizes made of stainless steel to functional high carbon steel Scimitar Swords.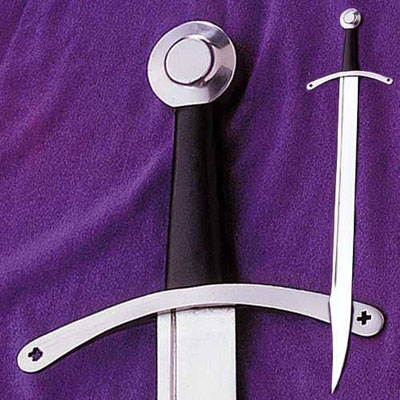 Scimitar Swords:
Falchion Swords
High Carbon Steel Blade
Includes Custom Scabbard
$229.99


Falchion Swords for sale are 34 inches in all. These Falchion Swords have a medieval scimitar design and feature a single-edge, tempered high carbon steel blade. The blade, which is available either sharpened or unsharpened, is 28 inches in length, 1 ¾ inches wide and 3/16th of an inch thick. Both the guard and pommel are manufactured of steel. The grip is crafted of wood and features a leather cover. These Falchion Swords also include a genuine leather scabbard. They weigh approximately 3 pounds. The design of these swords is based upon swords wielded by medieval knights and soldiers used during the 13th century. The style is reminiscent of the Persian scimitar and the Chinese Dao. Falchions were popular in a variety of shapes and used typically from around the 11th century up to and including the sixteenth century. Buy the medieval Falchion Swords for $229.99.