American Owned and Operated - 100% American Based Customer Service - Custom Laser Engraving - No Accounts Required
Royal Scimitar Sword with Damascus Steel Blade
Scimitar Swords and Shamshir Swords in assorted styles and sizes. These popular curved bladed swords are available in short decorative sizes made of stainless steel to functional high carbon steel Scimitar Swords.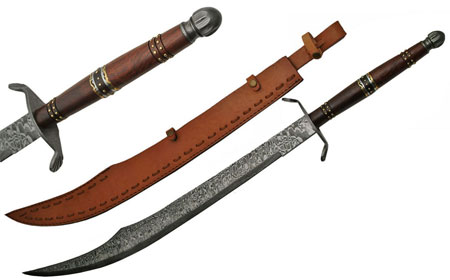 Scimitar Swords:
Royal Damascus Scimitar Swords
Custom Leather Sheath
$149.99


Royal Damascus Scimitar Swords for sale are 36 1/4th inches in all. These popular scimitar swords feature a curved blade and a royal design featuring Damascus steel and a rosewood handle. The curved blade features the distinctive Damascus flowing wave-like pattern and is beautifully contrasted by the gorgeous rosewood handle. The handle is adorned with brass and steel medieval rings and a steel pommel cap. These swords include a custom brown leather scabbard that features a thick stitch. Buy the popular Damascus Royal Scimitar Swords for only $149.99.