American Owned and Operated - 100% American Based Customer Service - Custom Sword Engraving - No Accounts Required
Functional English Cutlass Sword with Scabbard
Pirate Swords for sale are available in a variety of designs. Decorative and display cutlasses are light and an ideal choice for awards and ceremonies. Cutlasses and cupped handle designs are popular for costumes, pirate themed weddings and for stage. Buy all types of pirate swords, scimitars and cutlasses for display and reenactment all on sale now.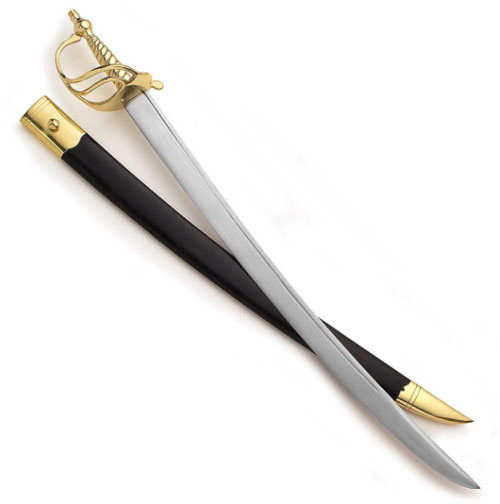 Pirate Swords:
English Cutlass Swords
Includes Custom Scabbard
$229.99


English Cutlass Swords for sale are 30 ½ inches in all. The English Cutlass Swords are designed after real swords that were used in the 17th and 18th centuries by sailors. These swords were used for close combat by military officers due to their relatively compact dimensions. The English Cutlass features a 25 ½ inch sharpened high carbon steel blade. The tough and tempered functional blade is 1 ½ inch wide and 1/4th of an inch thick. These swords feature a solid brass heart-shaped guard a feature similar to their historical counterparts. These swords are hand forged and handmade. They include a leather scabbard that has a brass throat and tip. They weigh 2 pounds 8 ounces. Buy the handsome and historical English Cutlass Swords for $229.99.
Limited Availability - Check Stock Before Ordering
---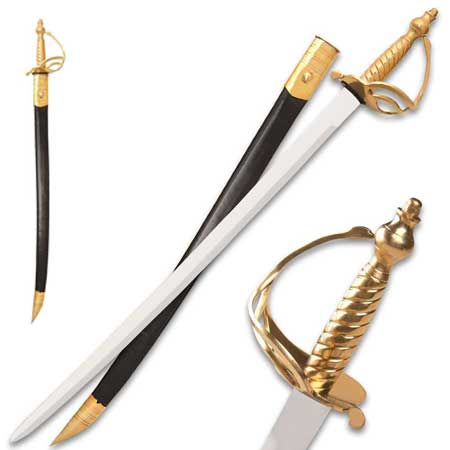 Military Swords:
English Cutlass Swords
High Carbon Steel Blade
$119.99
English Cutlass Swords for sale are 30 inches in all. These swords are modeled after a real military sword. This modern version features a 24 inch carbon steel blade. They have a brass-colored metal pommel and hand guard. The leather covered scabbard has brass colored fittings. Buy the English Cutlass Sword for $119.99.